Milinkevich is expected to meet with Polish lawmakers. A spokesman for Milinkevich's election headquarters, Syarhey Voznyak, said Milinkevich would return to Belarus on March 31.
According to official results, President Alyaksandr Lukashenka won 83 percent of the votes in the election. Milinkevich, who was the main opposition candidate, won 6 percent.
Prosecutors earlier today said Milinkevich could face up to 15 days in prison for public-order violations in connection with the protests he led against Lukashenka's reelection.
The Belarusian opposition, backed by Western governments and observers, denounced the election as fraudulent.
(Reuters)
Minsk, March 25
THE AUTHORITIES GET TOUGH: RFE/RL's Belarus Service filed these images from the police action against the March 25 demonstration in Minsk. Photographs by Maks Kapran.
LISTEN
Listen to the sounds of the demonstration:
Real Audio Windows Media
Real Audio Windows Media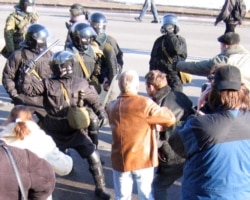 (RFE/RL)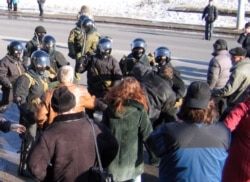 (RFE/RL)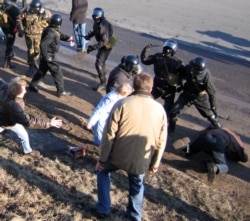 (RFE/RL)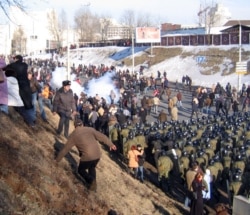 (RFE/RL)

THE COMPLETE PICTURE:
Click on the image to view a dedicated page with news, analysis, and background information about the Belarusian presidential ballot.


COVERAGE IN BELARUSIAN: Click on the image to view RFE/RL's coverage of the election campaign in Belarusian and to listen to RFE/RL's Belarusian Service.