HRW Urges Kazakh Probe Of Return Of Uzbek Refugees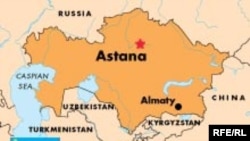 (RFE/RL) PRAGUE, March 30, 2006 (RFE/RL) -- The U.S.-based rights group Human Rights Watch (HRW) is urging Kazakhstan to investigate the forced return of Uzbek citizens who were seeking asylum in Kazakhstan.
HRW says its demand stems from November 2005, when nine Uzbek men living in southern Kazakhstan "disappeared" and later acknowledged to be in Uzbek custody. Some of the returnees were registered asylum seekers.

Kazakh officials deny involvement in the returns. But HRW says it has new evidence linking Kazakh law-enforcement and security officials to the seizure and deportation of four of the men. Two of them are due to go on trial today in Tashkent.

HRW says the nine fled Uzbekistan because of religious persecution.

HRW says Kazakh authorities must investigate the forced returns, because they violated Kazakhstan's obligations to uphold international conventions on refugees and torture.