Karzai Defends Handling Of Christian Convert Case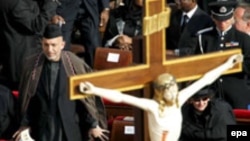 Afghan President Hamid Karzai (left) at the funeral of Pope John Paul II on April 8, 2005. (epa) April 4, 2006 -- Afghan President Hamid Karzai today defended his government's handling of the case of Abdul Rahman, an Afghan man who faced execution for converting from Islam to Christianity.
In an address to judicial officials, Karzai said a court decision to acquit Rahman after finding him mentally unfit to stand trial was objective and the "right decision." Karzai also agreed with the court, saying Rahman "was not normal."
Italy granted Rahman asylum after the case attracted Western calls for him to be released. But many Muslim Afghans, including the country's new parliament, showed little sympathy for Rahman, viewing his conversion as a crime that should be severely punished. Islamic Shari'a law prescribes death for apostasy.
Some conservative Muslims have accused Karzai's government of caving in to Western demands.
(AP)