Speaking in French, Milinkevich said, "Lukashenka is no longer the president of a country. He is a citizen who has power that is not legitimate."
The EU has backed the Belarusian opposition in denouncing the March 19 presidential election as fraudulent.
EU lawmakers, in a non-binding resolution, called on European governments not to recognize Lukashenka as president.
EU leaders meeting in Luxembourg on April 10-11 are expected to consider restrictive measures against Belarusian officials.
The Belarusian Foreign Ministry today dismissed the EU criticism as "laughable."
(AP)

Torn Between East And West
Torn Between East And West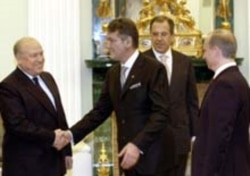 Yushchenko (center) with Russian Ambassador to Ukraine Viktor Chernomyrdin (left), Russian Foreign Minister Sergei Lavrov (rear), and Russian President Vladimir Putin (AFP file photo)
IN WHOSE ORBIT? Just over a year ago, tens of thousands of Ukrainians led an extended public uprising that toppled the country's entrenched, pro-Russia regime. But the country remains deeply divided between the east, where ethnic Russians look toward Moscow, and the west, which yearns for deeper integration with Europe. Can Ukraine elect a legislature that represents this torn country? (more)
See also:
Moscow Silent In The Run-Up To Ukraine's Elections
Is Kyiv On Stable Path Toward Integration With World Economy?
Western Neighbors Keen To Help Transition To Democracy

Click on the image for background and archived articles about Ukraine's March 26 elections.




Click on the image to see RFE/RL's coverage of the Ukrainian elections in Ukrainian.