Bush Urges Iraqi Leaders To Form Unity Government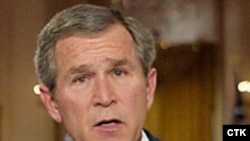 U.S. President George Bush (file photo) (CTK) April 10, 2006 -- U.S. President George W. Bush today urged Iraqi leaders to put aside their differences and establish a government of national unity.
Bush said further delays in creating an Iraqi government increase the risk that insurgents will slow the democratic process in Iraq.
Bush's remarks came as Iraq's main Shi'ite grouping, the United Iraqi Alliance (UIA), postponed a decision on whether to confirm Ibrahim al-Ja'fari as its candidate for prime minister in the new government.
Sunni and Kurdish parties have already rejected al-Ja'fari, blaming him for failing to bring an end to violence between Sunnis and Shi'a.
(compiled from agency reports)


SUBSCRIBE For weekly news and analysis on Iraq by e-mail,
subscribe to "RFE/RL Iraq Report."