Uzbek Opposition Party To Contest Presidential Vote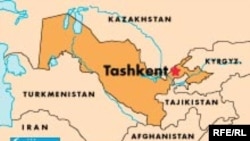 (RFE/RL) PRAGUE, April 18, 2006 (RFE/RL) -- The exiled leader of the unregistered Uzbek opposition party Erk (Freedom) says his party will in four to five months' time nominate a candidate to run in the next presidential election in 2007.
Muhammad Solih, who challenged President Islam Karimov in the 1991 presidential polls, told RFE/RL's Uzbek Service that the candidate "doesn't have to be me... The decision will be made by the party's central council. We may suggest someone else."
Erk is banned and Solih fled Uzbekistan in 1993 after a government crackdown on the opposition.
Solih cannot run for president under current Uzbek legislation, which demands that candidates must have lived inside the country for 10 consecutive years prior to the election.
He was also tried in absentia on charges of extremism and sentenced to a lengthy prison term in 1999.
RFE/RL Central Asia Report

SUBSCRIBE For regular news and analysis on all five Central Asian countries by e-mail,
subscribe to "RFE/RL Central Asia Report."