UN Nuclear Inspectors In Iran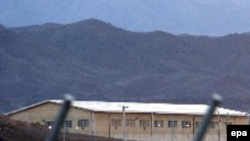 The site at Natanz where Iran says it has enriched uranium (file photo) (epa) April 21, 2006 -- Inspectors from the United Nations' nuclear watchdog agency are due to arrive in Iran today on a trip expected to include visits to nuclear sites, including a facility at Natanz where Iran says it has enriched uranium.
Iran's official Islamic Republic News Agency reported this week that the UN team was expected to be led by Olli Heinonen, the International Atomic Energy Agency's deputy director for safeguards issues.
The agency is due to report to the UN Security Council at the end of this month on whether Iran is complying with UN demands to halt uranium enrichment, a process that could be used for civilian nuclear power plants or for nuclear weapons.
The UN nuclear watchdog says it has been unable to verify that Iran's nuclear program is purely civilian, but says it has found no proof that Iran is trying to make an atomic weapon.
(Reuters, irna.ir)

THE COMPLETE PICTURE: RFE/RL's complete coverage of controversy surrounding Iran's nuclear program.
CHRONOLOGY
An
annotated timeline
of Iran's nuclear program.