Hundreds Evacuated From Russian Quake Region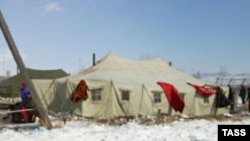 Temporary accommodation for villagers evacuated from their homes in Tilichki (ITAR-TASS) April 25, 2006 -- Officials say some 800 people have been evacuated from the Koryak region in the Russian Far East, four days after it was struck by a massive earthquake.
The April 21 quake left no one dead, but some 40 people were injured. Aftershocks are still being felt, but are growing weaker.
The earthquake also caused an estimated $55 million in damage. Emergency services are currently seeking to restore power to villages in sub-zero temperatures.
(compiled from agency reports)