PRAGUE, May 2, 2006 (RFE/RL) -- Jamila Mujahed couldn't work under the Taliban. She had to stay home, like the majority of Afghan women.
But soon after the U.S.-led military intervention there in 2001, Mujahed became the first female presenter to appear on television. In fact, she announced the fall of the Taliban regime.
She is no longer alone. Activists estimate that there are about 1,000 women working throughout Afghanistan as journalists for radio, television, or print publications.
Mujahed has moved on, too. She's founded a women's magazine focused called "Malalai." And she was integral to the relaunch of "The Voice Of The Afghan Woman," the first radio station dedicated solely to women's issues and interests.
Mujahed tells RFE/RL that despite the changes, there is still opposition in Afghanistan's deeply conservative society to women holding jobs outside the home.
Can't Leave Home
"Most families don't agree with their young girl or young woman taking a microphone in her hand and interviewing [someone] -- especially a man," Mujahed said. "They don't accept it. Because of the security problems, we cannot send our reporter even 1 kilometer away from the office for an interview. First of all, we wouldn't do such thing, and secondly, her family would never give her permission to go."
The situation is particularly difficult in southern Afghanistan, where most women are not allowed to leave their houses unaccompanied.
The Afghan Independent Human Rights Commission complained in a report in March that Afghan women face discrimination and mistreatment that includes rape, murder, and forced marriages.
In May 2005, the female presenter of a popular music show on the privately owned Tolo TV station was shot dead in her home in the nation's capital. It is unclear whether Shaima Rezayee's murder was connected with her work -- and two of her brothers were eventually arrested in the case. But she had been heavily criticized by conservatives for her Western broadcast style.
Shafiqa Habibi is one another Afghan pioneer. She is among Afghanistan's most prominent television anchors and is the founding director of the Women Journalists' Center. She tells RFE/RL that the lack of security and lawlessness limit the work of female reporters.
Lack Of Security Constrains Journalists
"Women journalists are not used here like elsewhere in the world," Habibi said. "In Afghanistan, it is impossible for them to go wherever they want and prepare reports because of the security issue and fear for their safety. They can't go and report from remote places; they can't go and cover events alone."
Habibi adds that institutional and systemic obstacles lead to a lack of experience, expertise, and proper training for women.
While the fear of harassment can hamper the work of all journalists, publisher Mujahed says women are particularly vulnerable. As a result, they often avoid sensitive issues in their coverage.
"Last week, in our office we wanted to report on the issue of the increasing number of men who get rich through the drug trade and through the use of force and arms and marry several wives," Mujahed said. "We wanted to ask the views of clerics: Islam says a man can marry four wives if he has a religious excuse. Many of my friends asked me not to touch these issues because they said it is very dangerous."
Mujahed says she has repeatedly been threatened in connection with her work and her high-profile views. She blames elements who believe that "women should not raise their voice beyond their standing."
Taboo Topics
Aside from a history of threats from warlords and armed groups over critical content, there are reports of intimidation against journalists who explore topics like women's rights and Islam.
But the Women Journalists' Center's Habibi says the ranks of Afghan women in the media are growing -- despite the obvious risks.
"It's a very pleasant job," she said. "Also, there are some places where men cannot get in, and it's much easier for women to penetrate [those places], and get there and report -- for example, on women's prisons. Or it's easier for women to go to villages and report on the lives of women there. There is also great demand for female presenters, newsreaders, and reporters at independent television stations, which are quite numerous."
Nonetheless, women remain a minority in the country's media sector.
World Press Freedom Day
NOT REALLY SO FUNNY:
The Paris-based World Association of Newspapers asked French cartoonist Michel Cambon to produce a series of cartoons on the theme of jailed journalists to mark World Press Freedom Day (May 3). Below, RFE/RL reproduces several of Cambon's cartoons.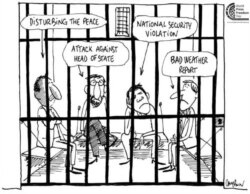 (WAN/Cambon)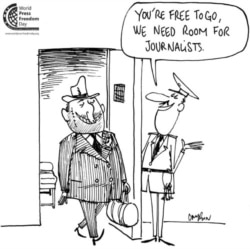 (WAN/Cambon)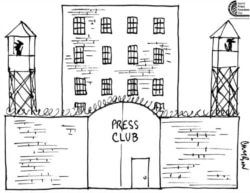 (WAN/Cambon)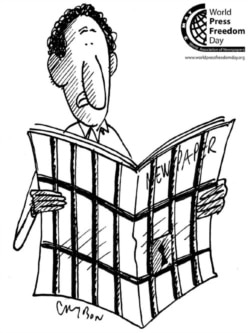 (WAN/Cambon)

RFE/RL's Press Freedom Day stories:
Iraq: Covering The Most Dangerous Beat On Earth
Afghanistan: Women In Journalism Battle Restrictions, Threats
Iran: State Maintains Tight Control Over Information
CIS: Press Freedom In Former Soviet Union Under Assault
Central Asia: Bureaucratic Obstacles Hinder Journalists
Central Asia: Governments Wary Of Independent Media
Central Asia: Journalists Still Face Harassment, Threats

ARCHIVE
To view an archive of RFE/RL's coverage of media-related stories, click here.
SUBSCRIBE
For regular news and analysis on media issues throughout RFE/RL's broadcast area by e-mail,
subscribe to "RFE/RL Media Matters."