PRAGUE, May 3, 2006 (RFE/RL) -- At least two graduate student activists -- Peyman Aref and Mehdi Aminizadeh -- former members of Iran's largest and most outspoken reformist student group (Daftare Tahkim Vahdat) have been expelled from school in recent months.
Others have reportedly been banned from studying for one or several semesters.
"It has not been announced why [Jahanbegloo was arrested] but we hope the day will come when no one is held...before being tried by an open court."
Student Harassment
Students have regularly reported being summoned to disciplinary committees, security bodies, and courts -- some have even faced jail sentences.
The Students Protest
The authorities have also -- despite some student objections -- started burying the remains of unknown soldiers killed during the Iran/Iraq war on university campuses. The campaign is considered by many as an attempt to bring extremist political groups into universities to pressure more moderate students.
There have been also reports about the dismissal of professors.
Mohammad Maleki, a former chancellor at Tehran university, tells RFE/RL that the actions are aimed at crushing the pro-democracy student movement.
Maleki was among students on May 2 who protested against Aref's expulsion and growing pressure on student activists.
"[The main point of] our protest [is] that these actions have become a trend; by burying the remains or martyrs in the universities and expelling students, it seems that they want to have a new kind of cultural revolution and put students and professors under pressure," he said. "They especially want to create fear in the universities. This government cannot stand criticism and opposition."
Abdollah Momeni, an outspoken student leader in Tehran, also believes that the Iranian government is trying to limit freedom of expression and crush student dissent.
Calls For Tolerance
He tells RFE/RL that the authorities are violating the rights of students.
"Unfortunately, in the new system Ahmadinejad's government and the Education Ministry are ordering actions that are being taken by security organs that violate the students' basic right to study," he said. "Students who have a critical view of the establishment, those who protest against government policies and search for democracy in Iran do not have the possibility to study and be politically active."
Mehdi Aminizadeh, who has also reportedly been expelled from university following intervention by Iran's Intelligence Ministry, recently called in an open letter for students groups, human rights organizations, and political parties to work on his behalf to help him return to school and pursue his studies.
Aminizadeh told Radio Farda on April 26 that he is determined to fight for this right.
"Continuing my studies is my right; I have the right to study in the country where I was born and where I live and I'm determined to do so," he said. "It is possible that there will be opportunities to study outside the country but that doesn't mean that whoever is [politically] active in this country can be kept by the Intelligence Ministry from studying and be forced to leave the country."
Human rights activists have expressed concern about the "intensifying repression" and the worsening of the situation regarding freedom of expression in Iran since the government of hard-line Ahmadinejad took office in August 2005.
Iran's main pro-reform group, the Participation Front, expressed concern on May 2 over pressure on students, including their expulsion, and called on the government to have "more tolerance in accepting criticism."
Leading Intellectual Detained
Front spokesman Saeed Shariati told Iran's Student News Agency (ISNA) that the group has also expressed concern about the detention of leading scholar and author Ramin Jahanbegloo, and called on authorities to release information about his situation.
Jahanbegloo, who also holds Canadian citizenship, was reportedly arrested late last week after returning from a trip to India. Jahanbegloo, the head of the department for contemporary studies at Tehran's Cultural Research Bureau, has published several books on such subjects as liberal political philosopher Isaiah Berlin and modernity in Iran.
The "Los Angeles Times " reports today that Jahanbegloo had challenged, in an article he wrote this year for the Spanish newspaper "El Pais," Ahmadinejad's suggestion that the Holocaust was a myth.
In recent days several Iranian websites had published reports about his arrest and Iran finally today it was confirmed that he has been detained.
The head of Tehran's prison organization, Sohrab Soleimani, told Fars news agency that Jahanbegloo was arrested on May 2 and is currently detained in Tehran's notorious Evin prison. He did not give details about the reasons of his arrest.
Another official who did not want to be named has told Fars agency that Jahanbegloo was arrested for security reasons and on espionage charges.
Today in Tehran liberal cleric Mohsen Kadivar told a gathering at the Association of Iranian Journalists that World Press Freedom Day is celebrated as one of the country's leading intellectual is under arrest.
Kadivar who has been jailed in the past for his criticism of the Iranian establishment added: "It has not been announced why [Jahanbegloo was arrested] but we hope the day will come when no one is held...before being tried by an open court."
On April 30, Iranian Foreign Ministry spokesman Hamd Reza Assefi said that Canada's ambassador to Tehran has reported the detention of a Canadian citizen to the Foreign Ministry. He added that the matter will be pursued in the courts.
(Radio Farda's Mosadegh Katouzian contributed to this report.)
Ramin Jahanbegloo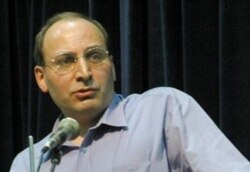 Ramin Jahanbegloo speaking in Tehran in 2004 (AFP)

THE FOURTH WAVE: In late April, it was announced that the Iranian authorities had arrested noted intellectual RAMIN JAHANBEGLOO. Jahanbegloo is a professor of philosophy in Iran and Canada and is the author of more then 20 books, including "Moje Chaharom" ("The Fourth Wave"). In November 2004, Radio Farda correspondent Fatemeh Aman interviewed Jahanbegloo about the current generation of Iranian intellectuals and its distinctive features.
Radio Farda: It seems that in your book you see a unique status and mission for the fourth generation in the process of progress and democratization in Iran. Why is that and what are the most important characteristics of this generation of intellectuals?
Ramin Jahanbegloo: The fourth generation is distinct from former ones for several reasons. First this is a democratically minded generation that cares about democratic values. This generation has a political approach toward these values and, importantly, it is heavily colored by the active presence of women. The other distinct feature of this generation is its belief in modernity. This modernity is not an imitation one, but rather is based on discourse. If in the past many thought they can become modern by imitating the Western way of life, today's intellectuals know that the real route to modernity is by understanding the modern world in the West and channeling this thought process into social, cultural, and political institutions....(more)

RELATED ARTICLES
Rights Advocate Calls Scholar's Arrest A Troubling Sign
Rights Groups Demand Scholar's Release
Iranian Activists Fear Looming Crackdown
ARCHIVE
For an archive of all of RFE/RL's coverage of Iran, click here.