The two -- Olga Kudrina and Yevgeny Logovsky -- had used mountaineering equipment to roll out a banner with antigovernment slogans on the front of a high-rise hotel in Moscow.
Kudrina was sentenced to 3-1/2 years in prison and Logovsky was given a 3-1/2-year suspended sentence.
(ITAR-TASS, Interfax)

Factbox: National Bolshevik Party
Factbox: National Bolshevik Party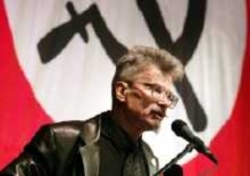 Created in 1994 by radical writer Eduard Limonov, Eurasianism ideologue Aleksandr Dugin (who soon left the party), and rock musicians Yegor Letov and Sergei Kurikhin.
Limonov was a member of the Soviet literary underground in the 1960s. He emigrated to the United States in the 1970s, where he became close to American Trotskyites and anarchists.
Limonov's best-selling novel, "It's Me, Eddie," has been translated into 15 languages.
The party's official publication is "Limonka" the name, literally "little lemon," is also idiomatic Russian for "grenade."
The NBP is believed to have several thousand followers, most of them young. They are popularly referred to as "limonovtsii."
Started as a neo-fascist organization, the party now prefers to describe itself as an opposition group that supports democracy. Its ideology is a mixture of totalitarian and fascist symbols, geopolitical dogma, leftist ideas, and national-patriotic demagoguery.
President Vladimir Putin is one of the party's constant targets. The party's website lists Putin's "crimes" as election fraud, reforming the Soviet-era benefits system, and the government's response to the Dubrovka and Beslan tragedies.
The party has gained fame by staging provocative protests and publicly challenging its foes. Some of its favorite stunts include throwing eggs, tomatoes, and mayonnaise at prominent public figures.
Its emblem combines the Nazis' red-and-white flag with the Soviet hammer and sickle.
Authorities have continually cracked down on the party. In August 2004, 39 activists were arrested and charged with "attempting to seize power and organize a mass disturbance" after breaking into the presidential administration building.
In June, the party was outlawed on extremism charges by a Moscow court. Russia's Supreme Court confirmed the ban in November.
Profile: National Bolsheviks, The Party Of 'Direct Action'