Police Detain Man Acquitted Of Klebnikov Murder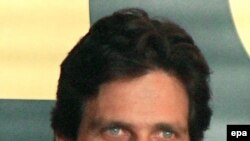 Paul Klebnikov, pictured shortly before his death (epa) May 11, 2006 -- Moscow police have detained a man acquitted in the trial for the murder of Paul Klebnikov, the American former editor in chief of the Russian edition of "Forbes" magazine.
Fail Sadretdinov, a Moscow-based notary, faces new criminal charges.
Two others were also acquitted of the murder.
Klebnikov was gunned down in Moscow nearly two years ago, in July 2004.
(Interfax, RIA-Novosti)