With the Kurdish north markedly safer than most other parts of Iraq, smaller international petroleum companies are becoming increasingly interested in prospecting for oil there. While the oil giants still hesitate, some Norwegian, Canadian, and British firms are already there and expressing increasing optimism.
Possibly New Oil Fields
Helge Eide, managing director of DNO of Oslo, Norway, says the company has been active in the Kurdish-administered region for some time and already has found new oil reserves. He said the company's first well, Tawke No 1, is now getting ready to start test-producing oil.
"We are progressing with our early test-production plan with the objective to start test production [in the] first quarter of next year," Eide said.
It is not yet clear whether the regional licenses would also be recognized by the central government in Baghdad, because the new Iraqi Constitution appears to many observers to give some licensing rights to both governments.
Eide added that the area is close to the Turkish border, some 300 kilometers from Kirkuk, and does not appear to be part of the long-established Kirkuk or Mosul oil fields. He said this makes the find even more exciting. "This is a complete new area, where there have been very limited -- if any at all -- exploration activities," he noted. "So this is definitely a complete new prospect, and if we can confirm commercial oil volumes, it will be characterized as a complete[ly] new field."
Other oil companies are also getting increasingly interested. One is Heritage Oil from Canada. It has already signed two memorandums of understanding with Kurdish regional authorities for an area comprising some 1,300 square kilometers. Production-sharing agreements are currently in the final stages of negotiation as well.
"We are already working in terms of the normal tasks that are to be expected in the initial stages, which are the geological field surveys, all the preliminary assessments that are necessary to define what is going to be the exploration program," Heritage chairman and chief executive Micael Gulbenkian said.
Legal Gray Area
Experts agree that the prospects for new oil finds seem good. But some are worried about the legal framework and validity of the granted licenses. Catherine Hunter, a senior analyst with Global Insight in London, said it is not yet clear whether the regional licenses would also be recognized by the central government in Baghdad. This is because the new Iraqi Constitution appears to many observers to give some licensing rights to both governments.
"That's not entirely clear from the actual wording of the constitution itself, and that's why again, we are seeing very small prospective companies in that region, rather than the major oil companies who are likely to wait for a more certain regulatory climate before they go in there," Hunter said.
Oilman Eide said, however, that he is counting on the Kurdish regional administration remaining a self-governing power in the region. So, he said, his company is not worried. "We believe that the political development and the constitutional arrangement now, which provides for such agreements to be signed, it was a right decision for us to do that," he said.
Analyst Hunter cautions that despite the as-yet-unknown extent of the Kirkuk oil fields and the possible significant untapped deposits further north, the Kurds may be overestimating their total potential reserves. She said the total estimates of some 45 billion barrels put forward by the regional administration may be too high and prompted, at least in part, by the administration's desire to attract investors.
Still, whatever the total reserves turn out to be, the Kurdistan authorities' optimism seems to be bringing in more, newly interested oil companies. Most recently, Sterling Energy, the first company from Britain, has been granted an exploration license in the region, too.
DNO's Eide said he welcomes the competition. "It's positive that other companies now are also starting operations up there," he said. "OK, we were very early and we have been progressing very well with the seismic and drilling, but I think in general it's positive that other companies now are entering this area."
That is because the oil companies must not only weigh the possibility of getting returns from their drilling but also the security risks of doing business in Iraq. And the presence of more companies can only reassure the early arrivals that their calculations in choosing to work in the Kurdish-administered region were right.
Iraq's Kurdish Region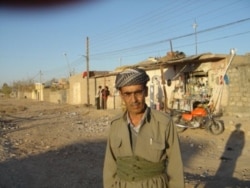 KURDISH AWAKENING: The ethnic Kurdish region in the northern part of Iraq has struggled in recent years to reestablish its cultural and political identity after decades of oppression under the regime of deposed Iraqi President Saddam Hussein. In December, RFE/RL correspondent Charles Recknagel traveled to this area and filed several reports:
Relative Peace Underscores Issue Of Kurdish Region's Future
Kurdish Culture Begins To Flourish In Kurdistan Region
Kurds Ponder How To Strengthen Autonomy After Elections