Turkmenistan Fires Another Central Bank Chief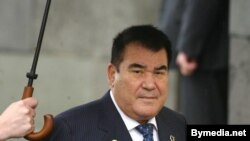 Turkmenistan President Niyazov (file photo) (Bymedia.net) May 13, 2006 (RFE/RL) -- Turkmen President Saparmurat Niyazov has fired another central bank chief, RFE/RL's Turkmen Service reported.
Niyazov dismissed Dzhumaniyaz Annaorazov. The president said that he can no longer trust Annaorazov with state funds.
Earlier this year, Niyazov warned Annaorazov that he needed to be careful, or he could end up like his five predecessors, four of whom have been jailed. One fled the country.
Turkmen Central Bank First Deputy Governor Geldymurad Abilov has been appointed to succeed Annaorazov.
(with material from AP, Reuters)