Barroso Wants Bulgaria, Romania In EU Quickly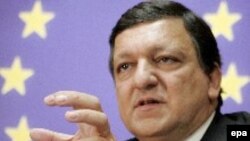 Jose Manuel Barroso (file photo) (epa) May 14, 2006 -- European Commission President Jose Manuel Barroso said today he favors the entry of candidate countries Bulgaria and Romania into the European Union as soon as possible.
The two southeastern European countries are hoping to receive approval at an EU meeting in Brussels on May 16 to join in January 2007.
Barroso told the BBC that he believes Bulgarian and Romanian membership is good for Europe and good for them, provided they meet all the criteria, including questions of fighting corruption and organized crime.
(AFP)