This is the third round of talks since a dialogue was opened by an exchange of letters between Turkish Prime Minister Recep Tayyip Erdogan and Armenian President Robert Kocharian in April 2005.
A spokesman of the Turkish Foreign Ministry, Namik Tan, said Turkey is determined to pursue a normalization of relations, but also called on Armenia to show more flexibility.
In 1993, Turkey shut its border with Armenia in a show of solidarity with Azerbaijan in the conflict over Nagorno-Karabakh.
Ties have also been strained by Armenian efforts to win international recognition of the 1915-17 killings of Armenians in Ottoman Turkey as genocide.
The day also saw a meeting between Russian Foreign Minister Sergei Lavrov and his Turkish counterpart, Abdullah Gul. Lavrov will then meet with Turkish President Ahmet Necdet Sezer,
The agenda of the talks were expected to include the standoff over Iran's disputed nuclear program.
Both Russia and Turkey have trade links with Iran and fear that an escalation of the crisis could further destabilize the region.
(compiled from agency reports)
Examining History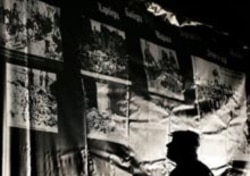 CALL IT GENOCIDE? Questions surrounding the mass killings of Armenians at the beginning of the last century continue to dominate relations between Armenia and Turkey. In April, Ankara proposed conducting a joint Armenian-Turkish investigation into the mass killings and deportations of Armenians during World War I.
Turkish leaders suggested that the two countries set up a joint commission of historians to determine whether the massacres carried out between 1915 and 1917 constituted genocide. Armenia, however, insisted it would continue to seek international recognition and condemnation of what it says was a deliberate attempt at exterminating an entire people....(more)
See also:
Armenians Mark 90th Anniversary Of Start Of Massacres
Armenia: Tragedy Remains On Europe's Political Map
ARCHIVE: For a complete archive of RFE/RL's coverage of Armenia, click here.