PRAGUE, June 5, 2006 (RFE/RL) -- Dubbed "Central Asia plus Japan Dialogue," today's meeting brought together the foreign ministers of Japan, Kyrgyzstan, Tajikistan, and Uzbekistan.
Kazakhstan was represented by Deputy Foreign Minister Kairat Abdrakhmanov, while Afghan Foreign Minister Rangin Dadfar Spanta attended the meeting as an observer.
"It is perhaps not entirely different from the 'Great Game' that we saw [in Central Asia] at the end of the 19th and early 20th centuries."
Greater Cooperation
The Japanese and Central Asian envoys approved an action plan that stresses the need for enhanced cooperation in fighting drug trafficking and poverty.
The Japanese Foreign Ministry says in a statement carried by the Kyodo news agency that the plan also calls for cooperation in fostering human rights and political dialogue.
A post-meeting statement says participants "acknowledged the importance of promoting democratic societies and market economies, improving living standards, [eradicating] terrorism and poverty, and continuing efforts to protect human rights in Central Asia."
The five also agreed to boost regional trade and improve Central Asia's infrastructure.
Infrastructure Improvements
Under the plan, Tokyo is scheduled to help Tajikistan renovate its road network as part of plans to link Central Asia to southern Afghanistan and make it easier to transport oil and natural gas across the region.
Today's statement underlines the importance of Afghanistan being associated with regional-development projects. This was the second such meeting between Japan and Central Asian nations.
The previous one took place in Kazakhstan in August 2004 and also included Turkmenistan. Participants then agreed to coordinate antiterrorism measures and improve energy-development cooperation.
In a speech delivered at the Japan National Press Club on June 1, Japanese Foreign Minister Taro Aso said Tokyo saw Central Asia as a region of growing importance, in part because of its vast natural resources.
Aso also said the region was the scene of increasing competition among world powers. This, he said, was where Japan could play an important role because it believes that Central Asia should not be "forced to submit to the interests of outside countries as a result of a 'New Great Game'" and that "the leading role must be played by none other than the countries of Central Asia themselves."
John Swenson-Wright is a lecturer in modern Japanese studies at Cambridge University's East Asia Institute.
"Since the 1990s, the Japanese government has seen itself as being able to play a brokering role [in Afghanistan]. The Japanese government played a very important role in putting together an international coalition to deal with the post-conflict situation in Afghanistan," Swesnson-Wright said. "It was very important in mobilizing international support to provide a substantial amount of financial assistance to Afghanistan. And this is an area where I think Japan -- because of its, in a sense, ambivalent relationship to the West and towards Asia is uniquely well placed to act in a mediating capacity."
A Counterweight To Russia, China
Yet, Swenson-Wright says Japan's willingness to seek a more active role in Central Asia is also motivated by specific geopolitical concerns.
"With the emergence of China as a major player Japan is increasingly concerned that it may be eclipsed, [that] it may see its own influence in the region to some extent challenged,"he said. "I suspect what we're seeing here is an effort on the part of the Japanese foreign-policy establishment -- particularly the Foreign Ministry -- to continue to underline the importance of taking Japan seriously [in the region] and see that its own interests are well represented."
It is still questionable whether China and the region's other major player -- Russia -- will let Japan have a greater say in Central Asian affairs.
Beijing and Moscow are the two leading forces behind the Shanghai Cooperation Organization, a regional grouping that also comprises the four Central Asian states that were represented at today's meeting in Tokyo. Russia and China make no secret that they want to reinforce the SCO with a view to keeping the United States away from the region.
Some Central Asian countries may see Japan's Central Asia policy as running counter to their own interests.
Rashid Ghani is an independent political expert based in Dushanbe, the capital of Tajikistan. He says he believes Central Asian countries will welcome Tokyo's efforts insofar as they remain strictly limited to economic cooperation.
Tokyo's Economic Interests
"[Japan's efforts] will be received positively only if they meet the interests of Central Asian states, including those of Tajikistan," Ghani said. "If these efforts are pursuing additional political aims, then they will not meet the interests of Central Asian countries, Tajikistan included."
Swenson-Wright of Cambridge University believes Japan, which depends almost entirely on the Middle East for its oil needs and is vying with China for access to the vast energy resources of eastern Siberia, is primarily interested in Central Asia's economic potential.
But Tokyo may yet become a part of the very world-power games it is officially denouncing.
"Counterbalancing [China's efforts to get access to Russia's energy resources] by making diplomatic initiatives reaching out to Central Asian republics makes sense politically," Swenson-Wright says.
"In that sense it is perhaps not entirely different from the 'Great Game' that we saw [in Central Asia] at the end of the 19th and early 20th centuries," he added.
(RFE/RL's Tajik Service correspondent Salimjon Aioubov contributed to this report.)
Media In Central Asia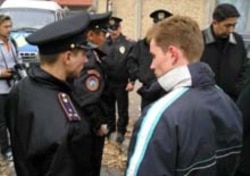 Ukrainian journalists trying to cover Kazakhstan's presidential election being expelled from the country in December 2005

MUZZLED MEDIA: Below is a brief overview of key media issues in each of the five Central Asian countries. (prepared by Daniel Kimmage)
Kazakhstan
Although Kazakhstan has seen the harassment of journalists and media outlets that fall afoul of the state, the larger problem is one of access -- both to sensitive information and to the larger public.
Asked whether freedom of the press exists in Kazakhstan, Darigha Nazarbaeva -- the daughter of President Nursultan Nazarbaev and a media magnate in her own right -- said recently that one need walk only five minutes in Almaty to find a publication that elaborates "what a bad president we have and how I've monopolized the entire press." And she's right -- an opposition press exists.
But national television, with its enormous potential to shape popular opinion, remains either state-controlled or subordinate to allied interests -- as witnessed by a strict taboo on investigations of alleged corruption in the Nazarbaev family.
Kyrgyzstan
Nowhere in Central Asia has the fate of the media reflected political upheaval as strikingly as in Kyrgyzstan of late. The true fall of President Askar Akaev in March 2005 took place not when he fled the seat of government before an advancing crowd, but when opposition leaders later made an impromptu appearance on state television. A heady period ensued, with revelations of Akaev-era skullduggery suddenly front and center in national media. But the honeymoon proved short-lived.
A post-Akaev political morass deepened through 2005 and early 2006 amid high-profile contract killings and frustrated expectations of political and economic reform. And the media environment followed suit, with initial gains eroded by renewed state interference in television, salaried partisanship in the print media, and the rising influence of organized-crime groups.
Tajikistan
Tajikistan's media environment has seen no such political upheavals. President Imomali Rakhmonov could rule through 2020, as long as he continues to secure reelection. He has consolidated his power in recent years -- seemingly with that aim in mind.
The media have also felt the consequences. As the country nears the end of its first decade since the 1992-97 civil war, the state maintains a firm grip national television and politically relevant print outlets. Meanwhile, a handful of tiny independent newspapers fight an increasingly uphill battle for access to printing facilities and readers.
Turkmenistan
The case of Turkmenistan speaks eloquently of a total stifling of media under blanket state control. News outlets trumpet the cult of President Saparmurat Niyzov and tout the purported glories of Turkmenistan's golden age under his rule. This reduces them to little more than a peephole on an otherwise sealed regime.
The media unfailingly broadcast Niyazov's pronouncements and feast on the latest official to fall from grace. On April 24, for example, former Prosecutor-General Gurbanbibi Atajanov, who recently stepped down after a decade of dispatching onetime colleagues to unenviable fates, begged for mercy on the evening news as the president vilified her for corruption. Those same media outlets ignore whatever fails to fit the script of the decreed golden age.
Uzbekistan
President Islam Karimov insists that Uzbekistan's media are at war. What foreign media reported as evidence of a massacre in Andijon in May 2005, the president and officials have described as an "information attack" intended to undermine Uzbekistan's stability and sovereignty. Print and broadcast outlets, controlled either directly or indirectly by the state, are required to fight off this alleged assault by detailing extremist threats and foreign plots. They are also tasked with explaining the country's shift of geopolitical allegiance to Russia and China.
What space remains goes to a sanitized portrayal of Uzbek reality, with some warts left in -- local corruption and economic difficulties -- to lend credence to the grand official narrative espoused by slogans such as "Uzbekistan, a country with a great future."
Of Related Interest:
Turkmenistan: RFE/RL Journalists Given 15-Day Sentence
Uzbekistan: New Media Resolution Tightens The Screws
Central Asia: Internet Fills Void Left By Media On Religious Freedom Issues
Central Asia: RFE/RL Speaks With Media Monitor About Press Freedom
THE COMPLETE STORY: To view an archive of RFE/RL's coverage of media-related stories, click here.


For regular news and analysis on media issues throughout RFE/RL's broadcast area by e-mail, subscribe to "RFE/RL Media Matters."