WASHINGTON, June 7, 2006 (RFE/RL) -- Companies such as Yahoo! and Google are well known for quickly putting vast amounts of information at the fingertips of computer users.
But these two Internet companies, along with the computer software giant Microsoft, have faced sharp criticism for compromising with Beijing by accepting restrictions on what information they can provide to users in China.
To Boycott Or Engage?
Chinese state censorship, nicknamed "The Great Firewall" by some, blocks most Western media sites, any site with human rights-related content, and unapproved domestic political news and discussion.
Such restrictions seem unacceptable to people who believe in the right to free exchange of information and ideas, according to one of the meeting's speakers, Matthew Cooper, the political editor of time.com, the online version of the popular U.S. weekly news magazine "Time." But Cooper said it's better for these companies to provide their services on a limited scale in China rather than object to state-imposed conditions and pull out completely.
"If the alternative is to not be in those countries, I'm not sure that's the better alternative," Cooper said. "Certainly our history with -- although it's not entirely analogous -- our history of economic embargoes against closed societies like Cuba or North Korea have not been exactly successful in opening up those societies. So, you know, in general American commerce and American policy has been toward a policy of engagement with regimes whose policies we don't like and [being] willing to accept that trade-off."
A Public-Relations Problem
James Lewis, director of technology studies at the Washington-based Center for Strategic and International Studies, said Yahoo!, Google, and Microsoft realize that China will limit access to the Internet regardless of a company's policy.
Therefore, Lewis said, it's far better for these companies to have a presence in China – and accept that they will be criticized for that -- than to pull out in protest.
"In some ways this is really a PR problem for the companies," Lewis said. "Places like China and others could find ways to suppress information that they don't want without the assistance of the companies. It might make it a little easier [to have that assistance], but these are places that are repressive. They put a lot of money and effort into being repressive, and they really don't pay that much attention to what they U.S. thinks of it, because they see it as a question of regime survival."
Lewis and the other members of the panel said they don't believe the presence of Western-owned Internet companies in China will be enough to persuade Beijing to change its censorship policy anytime soon. On the other hand, despite reports that China is now using specialized technology to filter out unapproved Internet content, their attempt to prevent all Chinese citizens from gaining access to the vast ocean of ideas on the World Wide Web will ultimately prove futile.
Can Blocking Work?
"I think, try as they might to suppress or stifle the growth or stifle the expression that they're seeing on the Internet, that in the end they're not going to be able to do it," said Robert Dietz, Asia coordinator for the New York-based Committee to Protect Journalists (CPJ). "They certainly have the technology, but they don't have the capability of just beating down each and every time someone stands up to speak. And I'm not necessarily talking about someone who's overtly critical of the government or calling for a new party to be allowed to exist outside the Communist Party. I'm talking about people who are in discussion groups in small towns."
That daunting problem may have been why other countries with limited press freedom have not followed China's lead in censoring Internet content, according to Arch Puddington, director of research for Freedom House.
Internet In Russia
Puddington pointed to what he called the "very constricted media environment" that has developed in Russia under President Vladimir Putin. The exception, he said, is Russian online media.

"Putin hasn't gone after the Internet yet, and therefore you find some of the freest press, some of the best commentary on Russian Internet sites today, and hopefully they'll be able to maintain that," he said.
Time.com's Cooper, however, cautioned against being too optimistic about limititations on the ability of governments to pick and choose which parts of the Internet its citizens see.
Even though website programming is becoming more immune to interference, regimes are able to hire increasingly sophisticated software engineers who can break through those safeguards, Cooper said.
"I wouldn't assume the technology will always be thus," he commented. "I mean, it may be that the blocking technology more than catches up to the rest of the Internet so that at some point, you know, they can block any reference to an Amnesty [International] report on any website."
Dietz warned that no one should lose sight of one critical truth: cyberspace is flooded with misinformation and even disinformation. People must remember, he said, that the only guarantee that comes with a totally free Internet is quantity of content, not quality.
Internet In The Former Soviet Union
Internet In The Former Soviet Union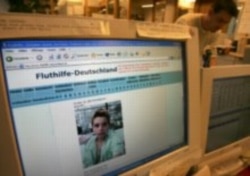 (AFP)
BREAKING THE NEWS: In 2000, Internews and the Center for Democracy and Technology established the Global Internet Policy Initiative (GIPI) to promote an open, democratic, and user-controlled Internet in developing countries. Throughout the former Soviet Union and Central and Eastern Europe, GIPI has worked to bring together local stakeholders and advocate policy reforms that will support development of the Internet as a tool of democratization, economic growth, and human development.
On May 3, RFE/RL's Washington office hosted a roundtable discussion of these issues. Participants included PARVINA IBODOVA, chairman of the Civil Internet Policy Initiative and GIPI Coordinator; BOGDAN MANOLEA, Executive Director of the Romanian Association for Technology and Internet (APTI), an independent NGO that works to promote human rights in the digital environment and support digital civil rights in Romanian society; and experts working in the Internet policy development area from Belarus and Uzbekistan. Internet-policy advocates from Azerbaijan, Kazakhstan, Kyrgyzstan, Macedonia, Russia, and Ukraine also took part in the discussion.
LISTEN
Listen to the entire 90-minute briefing (the first two minutes are low volume):
Real Audio
Windows Media
RELATED ARTICLES
Russia: Authorities Warn Of Cybercrime Epidemic
Belarusian Opposition Embraces Internet
Internet Battle Averted As UN Technology Summit Starts
Rights Group Lists 'Enemies Of Internet' At UN Summit
ARCHIVE
To view an archive of RFE/RL's stories about the Internet, click here.