Solana met with Merkel in Berlin after delivering a package of incentives to leaders in Iran on June 6 aimed at convincing Iran to suspend its program to enrich uranium, a process that Iran could potentially develop to the stage where it could produce nuclear weapons.
Merkel said the package represents "a really important chance" to resolve the dispute by diplomacy.
Solana said he hoped for a swift signal from Tehran and would willingly hold a further round of talks with Iranian officials.
Meanwhile, Russian Foreign Minister Sergei Lavrov said today the package envisages Iran suspending uranium enrichment, and the UN Security Council refraining from debating Iran's nuclear program while talks on the offer are under way.
Few other details of the offer have been revealed so far.
Lavrov said he expects Iran to give its response by the end of June.
(compiled from agency reports)

What The Street Thinks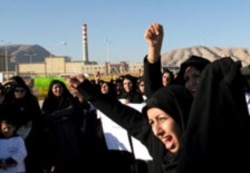 A demonstration in support of Iran's nuclear program outside the Isfahan uranium-conversion facility in Isfahan in January (epa)

IRANIANS SPEAK OUT ON THE DISPUTE: To find out more about what Iranians think about the international controversy over their country's nuclear program, RADIO FARDA asked listeners to express their views....(more)
See also:
Iran: Public Has Mixed Feelings On Nuclear Issue

THE COMPLETE PICTURE: RFE/RL's complete coverage of controversy surrounding Iran's nuclear program.
CHRONOLOGY
An annotated timeline of Iran's nuclear program.