G8 Ministers Predict Strong Economic Growth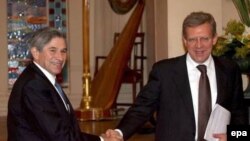 Russian Finance Minister Kudrin (right) with the president of the World Bank, Paul Wolfowitz, at the meeting of G8 finance ministers (epa) June 10, 2006 -- Finance ministers from the world's most industrialized nations predict a year of strong economic growth, despite high oil prices and fears of inflation.
Ministers from the G8 said in a communique issued after a meeting in St. Petersburg that economic growth was healthy and becoming more broad-based.
Russian Finance Minister Aleksei Kudrin said the group had primarily discussed "all economic and financial measures needed to develop the global energy market."
Some of the ministers also expressed concern of U.S. trade and budget deficits.
On other subjects, the ministers reiterated their commitment to drawing up plans to curb the possibility of a bird-flu pandemic and reaffirmed the need to strengthen safeguards against money laundering and money being channeled to terrorists.
(AP, AFP)