Foreign Minister Manuchehr Mottaki said Tehran's offer may either be a variation of the proposal made by three European powers, the United States, China, and Russia, or an entirely new package.
Mottaki did not elaborate on how the Iranian proposal might differ from the international package.
World powers have given Iran several weeks to accept or reject the package of incentives.
Iran has so far rejected the idea of halting the enrichment of uranium, saying its program is intended only to produce low-enriched uranium for use by its electricity industry. The United States fears Iran wants to develop an atomic bomb.
(AP, Reuters)

What The Street Thinks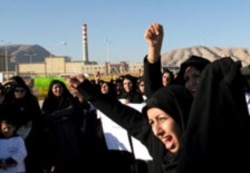 A demonstration in support of Iran's nuclear program outside the Isfahan uranium-conversion facility in Isfahan in January (epa)

IRANIANS SPEAK OUT ON THE DISPUTE: To find out more about what Iranians think about the international controversy over their country's nuclear program, RADIO FARDA asked listeners to express their views....(more)
See also:
Iran: Public Has Mixed Feelings On Nuclear Issue

THE COMPLETE PICTURE: RFE/RL's complete coverage of controversy surrounding Iran's nuclear program.
CHRONOLOGY
An annotated timeline of Iran's nuclear program.