Pakistan Makes Major Drugs Haul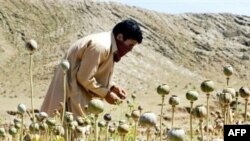 A tribesman works in a poppy field on the Pakistani side of the Afghan border (file photo) (AFP) June 11, 2006 -- Officials say Pakistani forces have seized more than two tons of morphine as well as shipments of heroin and arms and ammunition.
Troops from the army-led Anti-Narcotics Force conducted a raid in Chaghi district in the southwestern province of Baluchistan on June 10 following a tip-off that drugs smuggled in from Afghanistan had been stored in a house in a deserted area.
The counternarcotics team seized 2,025 kilograms of morphine and 10 kilograms of heroin, along with 50 hand grenades, 30 rocket-propelled grenades, and 5,350 rounds for Kalashnikov rifles.
The officials said no arrests were made as the smugglers had fled before the raid.
(AFP)