The International Atomic Energy Agency (IAEA) reported that Iran resumed uranium enrichment on June 6, when it began feeding uranium hexafluoride gas (UF6) into its 164-centrifuge cascade. According to the IAEA report, work on two more 164-centrifuge cascades is continuing.
An anonymous Iranian official acknowledged this development on June 9, ISNA reported. He said these activities are intended to improve Iran's technical capabilities, and a 3,000-centrifuge cascade should be ready by March 2007.
The details of the package of incentives and sanctions formulated by the 5+1 group (China, France, Russia, the United Kingdom, and the United States, plus Germany) at its early-June meeting in Vienna have not been released. Nevertheless, it is believed that one of its demands is that Iran suspend all uranium-enrichment and -reprocessing activities, according to AFP on June 5.
The International Proposal
European and U.S. diplomats told "The New York Times" of June 6 that incentives in the proposal include a commitment to support a civilian nuclear program and to help build light-water reactors. Other incentives, according to the daily, are support for Iranian membership of the World Trade Organization, the sale of Airbus and Boeing aircraft parts, and U.S. participation in negotiations with Iran.
Less is known about disincentives, particularly the possibility of military action. According to "The New York Times," disincentives include a ban on international travel for Iranian officials involved in the nuclear program and a freeze of Iranian finances in other countries.
A Shift In The West's Position?
Anonymous U.S. and European officials say the proposal allows for Iran to enrich uranium domestically, "The Washington Post" reported on June 7. The sources said that in order to reach the point of domestic enrichment, Iran must suspend its current nuclear activities while the IAEA ascertains the peaceful nature of the Iranian program. The UN Security Council must also be convinced that Iran is not pursuing a nuclear-weapons capability, according to "The Washington Post." If correct, this element would represent a significant change from earlier demands that Iran forsake uranium enrichment entirely.
The proposal also contains an offer for light-water-reactor technology that can be used for electricity generation, "The Wall Street Journal" reported on June 7, as well as cooperation on nuclear research and development. Some of the proposed technology is patented in the United States and built in Europe. The paper adds that it is currently illegal to provide U.S.-patented products for the Iranian nuclear program, regardless of where they are manufactured.
Another aspect of the proposal is Washington's willingness to participate in direct multilateral talks with Tehran. Tehran's reaction to this possibility was reserved.
"It has been decided that we will carefully examine the package we've received," Iranian Foreign Minister Manuchehr Mottaki said. "It has even been recommended that we shouldn't hurry.... Hence, we will examine it, without hurrying, but carefully. We will [then] give our proposals to the European side."
Mohammad Javad Saidi, deputy chief of the Atomic Energy Organization of Iran, on June 2 downplayed the significance of U.S. Secretary of State Condoleezza Rice's statement two days earlier that the United States would participate in nuclear talks with Iran, ISNA reported.
"Iran has not asked the United States to participate in the nuclear talks," Saidi said, adding that the preconditions set out by Rice -- suspension of uranium-enrichment and -reprocessing activities, full cooperation with the IAEA, and implementation of the Additional Protocol of the Nuclear Non-Proliferation Treaty (NPT) -- are unacceptable.
"It would be almost impossible to accept the preconditions set by America," he said. "We are interested in taking part in any discussions that stress our legal rights, irrespective of who is at the other side of the negotiating table -- be it Russia, China or others."
Taking Their Time
In a June 3 speech at the tomb of Ayatollah Ruhollah Khomeini, father of Iran's Islamic Revolution, President Mahmud Ahmadinejad said UN Secretary-General Kofi Annan has asked him to take his time considering the international proposal and not to publicize it, state television reported.
Ahmadinejad said Iran will reveal the details eventually, and it "will record all the talks word for word" to keep people apprised. Iran's ultimate decision, he continued, will be based on Iran's national interests.
Iran is willing to negotiate, Ahmadinejad said, but considers its "nuclear rights -- the use of the technology of nuclear-fuel production and nuclear technology for peaceful purposes -- to be part of our self-evident and legal rights and we will not negotiate about our self-evident rights with anyone."
Possible topics for negotiations, he continued, are "mutual concerns," world peace, and the proliferation of weapons of mass destruction.
European Union High Representative for Common Foreign and Security Policy Javier Solana arrived in Tehran on June 5, and one day later he submitted the proposal to Iranian officials.
After meeting with Solana on June 6, Iranian Supreme National Security Council Secretary Ali Larijani said the talks went well and the proposal will receive careful consideration, Radio Farda reported.
"We had constructive talks with each other," Larijani said. "They presented proposals that they had worked on before. These proposals include positive steps, and they also include some ambiguities that should be removed."
Foreign Minister Manuchehr Mottaki met with Solana next, and he expressed similar views, state radio reported.
"It has been decided that we will carefully examine the package we've received," Mottaki said. "It has even been recommended that we shouldn't hurry.... Hence, we will examine it, without hurrying, but carefully. We will [then] give our proposals to the European side."
Solana sounded enthusiastic, too, Radio Farda reported. "We had a very good meeting with Dr. Larijani, with the ministers now," he said. "I think the atmosphere was very good. We are going to try to continue."
Lawmakers React
Some Iranian legislators are unenthusiastic about the package of incentives, "Kayhan" reported on 7 June. Hamid Reza Haji-Babai said that any call for the suspension of uranium enrichment is unacceptable. The only negotiable matter, he said, relates to allaying European concerns over the diversion of nuclear technology to military use.
Lawmaker Heshmatollah Falahat-Pisheh said Iran rejects the suspension of its nuclear activities as a precondition to receipt of the proposed incentives. He said Europe's record on cooperation does not engender confidence. It is unclear whether the parliamentarians are familiar with the details of the 5+1 proposal.
Ayatollah Ahmad Jannati, head of the powerful Guardians Council, spoke about the international proposal in his June 9 sermon at the Tehran Friday Prayers, which were transmitted across the country by state radio.
"They are still trying to deprive us of many concessions," he said. "This package of incentives that they are offering us is of no use to the Iranian nation and it is only good for themselves."
"We must achieve 3.5 to 5 percent enrichment. They have to accept this," he added.
Talking Technical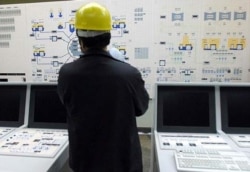 A control panel at the Bushehr nuclear power plant (Fars)

CASCADES AND CENTRIFUGES: Experts and pundits alike continue to debate the goals and status of Iran's nuclear program. It remains unclear whether the program is, as Tehran insists, a purely peaceful enegy project or, as the United States claims, part of an effort to acquire nuclear weapons.
On June 7, 2006, RFE/RL correspondent Charles Recknagel spoke with nuclear expert Shannon Kile of the Stockholm International Peace Research Institute in Sweden to help sort through some of the technical issues involved. "[Natanz] will be quite a large plant," Kile said. "There will be about 50,000 centrifuges and how much enriched uranium that can produce [is] hard to say because the efficiency of the centrifuges is not really known yet. But it would clearly be enough to be able to produce enough [highly-enriched uranium] for a nuclear weapon in fairly short order, if that's the route that they chose to go...." (more)
RELATED ARTICLES
Tehran Says It Is Working On Advanced Nuclear Fusion
Would Light-Water Reactor Suit Tehran's Needs?
Satellite Images Raise Questions About Iran's Nuclear Program
Centrifuges And Political Spin?
How Close Is Iran To Getting Nuclear Bomb?
Iran: The Worst-Case Scenarios

THE COMPLETE STORY: RFE/RL's complete coverage of controversy surrounding Iran's nuclear program.