PRAGUE, June 16, 2006 (RFE/RL) -- President Ahmadinejad's encouraging assessment of the incentives package was accompanied by less clear language about when Iran will formally respond to the offer.
"We see this [package] overall as a step forward, and I've asked my colleagues to carefully consider it," Ahmadinejad said. "God willing, we will express our views within the framework of the national interests of the Islamic Republic of Iran."
Ready For Dialog?
The comments are Ahmadinejad's first public response to the package, and come less than 24 hours after talks with Russian President Vladimir Putin. Putin had emerged from that June 15 meeting claiming that Iran was "positively" assessing the offer.
Putin also said Ahmadinejad had assured him that Iran was ready to resume dialog on its controversial nuclear program.
The package of proposals is backed by the five permanent members of the UN Security Council (Britain, China, France, Russia, and the United States) plus Germany.
It reportedly contains a number of industrial and economic incentives, including the possible lifting of some U.S. trade sanctions against Tehran. It is also believed to include the supply of at least one light-water nuclear reactor to Iran.
U.S. officials have warned that if Iran turns down the incentives, it could face "the weight of the Security Council," which could push for sanctions.
Today in Shanghai, President Ahmadinejad rejected the threat of sanctions to pressure his country on the nuclear issue.
"I think the word 'sanction' should be removed from the political [lexicon]," Ahmadinejad said. "Sanctions should not be used as a threat or as a tool for exerting pressure."
Ahmadinejad -- who has repeatedly invoked national pride in defending Iranian nuclear activities -- said his country supports "constructive talks on equal footing."
Some Skepticism
Ahmadinejad also said that Iran is not seeking to develop nuclear weapons.
Despite similar comments by Iranian officials, Western countries are concerned that Iran could use enriched uranium, for producing nuclear bombs. The United States have accused Tehran of a covert nuclear weapons program. The UN's nuclear watchdog, the International Atomic Energy Agency (IAEA), says Iran has failed to convince it that its nuclear efforts are purely peaceful in nature.
Today, Chinese media quoted President Hu Jintao as telling Ahmadinejad that while China understands Iran's concern over its right to a peaceful nuclear program, "the critical point" is "to build mutual trust between Iran and the international community."
President Putin said after the meeting with Ahmadinejad on June 15 that any country, including Iran, has a right to use nuclear technology. But he added that countries must do it in a way that "does not arouse the concerns of the international community on the nonproliferation issue."
Mounting Pressure
Speaking today, Ahmadinejad did not disclose the details of his talks with Putin or Hu. But he said "our views and positions on many issue are close, or even identical."
Russia and China, which each have significant economic interests in Iran, have pressed for negotiations to defuse the standoff with the United States and Europe over Iran's nuclear program.
Both countries have called on Iran to seriously consider the current offer.
Chinese President Hu reportedly said the package of incentives provides a "new opportunity for the settlement of the issue."
The U.S. ambassador to the International Atomic Energy Agency, Gregory L. Shulte, has called on Iran to respond positively to the offer and suspend its uranium enrichment.
The United States and the other five countries that agreed on the package have not set a concrete deadline for Iran to respond.
EU foreign policy chief Solana said on June 14 that he has held "constructive" telephone conversations with Iran's top nuclear negotiator, Ali Larijani.
Solana had officially conveyed the package of incentives to Iran during a visit to Tehran on June 6.
Agencies report that EU leaders gathered at an EU summit in Brussels are expected later today to call on Iran to take the "positive path" and give an "early response" to the package.
On June 15, Chinese Foreign Ministry spokesman Liu Jianchao said that Iranian officials might need "some extra time" before they can formally react to the proposals.
Iranian officials have said they will respond in "due course" while stressing that talks should be "unconditional."
Avoiding International Isolation
Avoiding International Isolation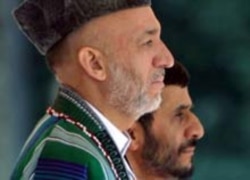 Afghan President Hamid Karzai (left) with Iranian President Mahmud Ahmadinejad in Tehran on May 27 (epa)
DIPLOMATIC OFFENSIVE:
As the United States and the European Union increase pressure on Iran regarding its nuclear program, Tehran has launched a wide-ranging and ambitious diplomatic offensive, including high-level state visits with countries including China, Indonesia, Afghanistan, Azerbaijan, and Pakistan. In May, Iranian President Mahmud Ahmadinejad participated in a high-profile
summit of the so-called Developing 8 (D8) group
of countries in Bali. Below are some links to RFE/RL's coverage of Iran's efforts to boost international support for its position.
Tehran's Shanghai Plans Seen As Bold Geopolitical Stroke
Nonaligned Movement Expresses Support For Iran
Afghan, Iranian Presidents Tout Strong Historical Ties
Iranian Foreign Minister In Pakistan For Energy Talks
Iranian Foreign Minister Visits Baghdad
ARCHIVE
To view all of RFE/RL's coverage of Iran, click here.

THE COMPLETE STORY: RFE/RL's complete coverage of controversy surrounding Iran's nuclear program.