BP Joint Venture To Sell Russian Unit To Chinese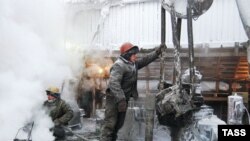 Drilling for oil in Siberia (file photo) (ITAR-TASS) June 20, 2006 -- The British-Russian oil group TNK-BP has agreed to sell a major Russian subsidiary, Udmurtneft, to the state-owned Chinese oil company China Petroleum and Chemical Corporation. TNK-BP did not disclose the value of the deal.
TNK-BP is Russia's largest oil producer after LUKoil and Rosneft.
Ownership is split evenly between British Petroleum and a group of Russian investors.
(AP, AFP)