Court To Probe Privatization Of Kyrgyz Cement Maker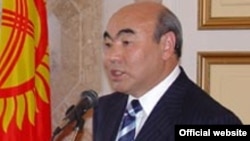 Askar Akaev, until March 2005 the only president Kyrgyzstan had had (file photo) (official site) June 23, 2006 -- Kyrgyz Prime Minister Feliks Kulov today said new court hearings into the 1999 privatization of the Kant Cement and Slate Factory (KCSF) will begin on July 7.
Kulov said the government would ask the court to annul the sale, which has become a popular symbol of nepotism and high-level corruption under the country's previous president, Askar Akaev.
He said that since the company "was sold by the previous government and has turned into a private company, we cannot revoke the deal ourselves. Therefore, we've decided to go to court."
The Kyrgyz authorities opened a criminal investigation into the sale after Akaev's ouster in March 2005.
Subsequent court rulings declared the deal legal, but investigators insist ownership of the plant remains unclear.
They say they suspect Akaev's son-in-law, Adil Toigonbaev, still owns a stake in the plant despite his claims to the contrary.
(AKIpress, Kabar, 24.kg)
RFE/RL Central Asia Report

SUBSCRIBE For regular news and analysis on all five Central Asian countries by e-mail,
subscribe to "RFE/RL Central Asia Report."