Uzbekistan Enhances Hate-Crime Legislation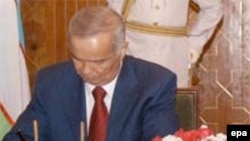 President Islam Karimov (file photo) (epa) June 26, 2006 -- Uzbek President Islam Karimov has signed into law a bill introducing greater penalties for people convicted of inciting ethnic or religious hatred.
Aziz Abidov, the spokesman of the government's Religious Affairs Committee, said in Tashkent today that Karimov approved the legislation last week.
Under the revised Penal Code, which was published in one of Uzbekistan's two official newspapers, people found guilty of preparing, keeping, or disseminating material inciting to national, racial, ethnic, or religious hatred, after being sentenced administratively, will face punishment ranging from fines to three years in prison.
Conspiracy to incite to national, racial, ethnic, or religious hatred will be punishable by up to 10 years in jail.
Abidov said a number of religious groups were still conducting "aggressive proselytizing activities" in Uzbekistan. He did not elaborate.
Uzbek courts have recently ordered the closure of several U.S. nongovernmental groups on proselytizing charges.
(press-uz.info, narodnoeslovo.uz)