Russian gas giant Gazprom said today that it has been unable to reach agreement on price in a new import deal with Turkmenistan and that negotiations have been suspended.
The announcement of the negotiations' collapse came after a meeting between Turkmen President Saparmurat Niyazov and Gazprom chief Aleksei Miller.
Turkmenistan wants to raise the price of its gas sales to Russia to $100 per 1,000 cubic meters for supplies in the second half of 2006 and in 2007.

The Turkmen Foreign Ministry today confirmed that Ashgabat would honor a previous, 30 billion-cubic-meter contract to sell gas to Russia for $65 per 1,000 cubic meters.
A Ukrainian delegation led by Fuel and Energy Minister Ivan Plachkov arrived in Ashgabat later on June 29 for talks aimed at securing supplies of Turkmen gas for the second half of 2006 and beyond.
During the talks, which are scheduled for June 30, Turkmenistan is expected to push for Ukraine to pay more for its gas.

Turkmenistan has recently looked to other prospective markets to sell its gas, including signing a deal in early April that foresees a gas pipeline to deliver Turkmen gas directly to China.

Turkmenistan is also looking to Iran. The $190 million Korpezhe-Kurt Kui pipeline from Turkmenistan to Iran, launched in 1997, is the first natural-gas export pipeline in Central Asia to bypass Russia.

Iran announced in early March that it intends to buy 8 billion cubic meters (bcm) of gas from Turkmenistan this year, up from 5.8 bcm in 2005, and 14 bcm a year starting in 2007.
Central Asia Gas Pipelines
Central Asia Gas Pipelines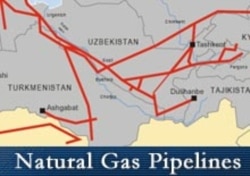 Click on the map for an enlarged image.

Russia's rising appetite for Central Asian gas is a direct result of the shifting fortunes of Gazprom, the state-run Russian company that controls lucrative exports. The company's total gas production has flatlined at around 550 billion cubic meters (bcm) a year. With major fields yielding less as they age, Gazprom has chosen to maintain its all-important gas balance by purchasing gas on the side -- from independent producers in Russia and from Russia's Central Asian neighbors -- instead of investing in the lengthy and costly development of untapped Arctic fields...(more)
See also: