The mother, Muhayo Ismoilova, claimed the alleged rape was ordered by the Uzbek National Security Service, to make her husband, Rukhitdin Fahrutdinov, confess to extremism charges he had previously denied.
But the head of the press service of Uzbekistan's National Security Service, Olim Turakulov, declined to comment, telling RFE/RL's Uzbek Service today that he had no information about the allegation.
Ismoilova claimed that her daughter, Oysha, was raped on March 31, saying that Oysha went with her older brother that day to an Internet cafe, disappeared, and returned to the family home at night.
Ismoilova also claimed that before the alleged rape, her husband had refused to confess, but that afterward he signed all confessions and the case went to court.
"As a mother I think this was done deliberately," she said. "They wanted my husband to confess to all of the charges that he had been denying."
She said she had not disclosed the rape earlier since the family did not want to make it public.
Her claims could not be independently confirmed.
Andijon Refugees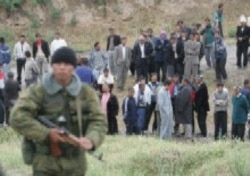 Uzbek refugees in Kyrgyzstan on May 19, 2005 (epa)


NO PLACE TO GO: More than 400 Uzbeks who fled in panic in the hours and days after troops opened fire on demonstrators in Andijon one year ago have been granted political asylum outside Central Asia. In limbo for weeks in Kyrgyzstan as they and the world tried to come to grips with the bloody events of May 12 and 13, they feared for their lives and the lives of family members as the official crackdown continued.... (more)
RELATED ARTICLES
Andijon Refugees In Romania Have Escaped Violence, But Not Heartache
Refugees In Romania Await Decision On Destination
Refugees Want To Return Only If Regime Changes


THE COMPLETE STORY: A dedicated webpage bringing together all of RFE/RL's coverage of the events in Andijon, Uzbekistan, in May 2005 and their continuing repercussions.
CHRONOLOGY
For an annotated timeline of the Andijon events and their repercussions, click here.