Scientists from Columbia University in New York screened more than 13,000 people who were living in the most contaminated area of Ukraine during the meltdown of the nuclear plant and who were under 18 at the time.
(Reuters)

Chornobyl's Contamination Of Europe
Chornobyl's Contamination Of Europe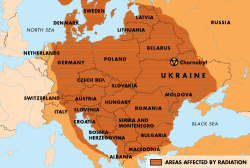 Click on the map to enlarge.

NOT JUST A LOCAL PROBLEM: On April 27, 1986, the day after the explosion at Chornobyl, workers at Sweden's Forsmark Nuclear Power Plant were found to have radioactive particles on their clothes, which led to a search for the source, and the first suspicions that a nuclear accident had occurred in the Soviet Union.
The cloud of radioactive particles from Chornobyl passed over Scandinavia, the Netherlands, Belgium, and the British Isles, before the wind changed, after which it was blown south over much of Europe. Radioactive contamination from the Chornobyl disaster was also detected as far away as North America and Japan.
LOCAL COVERAGE: Click here to see RFE/RL's coverage of Chornobyl in Russian, Ukrainian, or Belarusian.

Click on the icon to view the slideshow