In a rare interview, Viktor Bryukhanov told Russia's "Profil" magazine that the flaws in the technology used at Chornobyl and the dangers of nuclear power were not fully disclosed after the accident 20 years ago.
He acknowledged that staff error was partly responsible, but said the official investigations into the accident were designed to exonerate the nuclear industry.
Bryukhanov was jailed for negligence after the accident, and served half of a 10-year sentence.
(Reuters)
Chornobyl's Contamination Of Europe
Chornobyl's Contamination Of Europe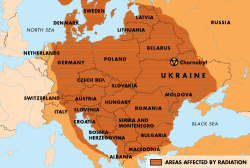 Click on the map to enlarge.

NOT JUST A LOCAL PROBLEM: On April 27, 1986, the day after the explosion at Chornobyl, workers at Sweden's Forsmark Nuclear Power Plant were found to have radioactive particles on their clothes, which led to a search for the source, and the first suspicions that a nuclear accident had occurred in the Soviet Union.
The cloud of radioactive particles from Chornobyl passed over Scandinavia, the Netherlands, Belgium, and the British Isles, before the wind changed, after which it was blown south over much of Europe. Radioactive contamination from the Chornobyl disaster was also detected as far away as North America and Japan.
LOCAL COVERAGE: Click here to see RFE/RL's coverage of Chornobyl in Russian, Ukrainian, or Belarusian.

Click on the icon to view the slideshow