Hundreds of people filed through the streets of Slavutych, the Ukrainian town built to house Chornobyl plant workers after the world's worst civilian nuclear accident on April 26, 1986.
Well after midnight, in Kyiv, 80 kilometers to the south of Slavutych, President Viktor Yushchenko stood alongside other dignitaries by the "Chornobyl church." He placed a large bouquet of roses at a memorial marked by two stone slabs on a knoll.
At 1:23 a.m. Moscow time today, a minute of silence was declared. That was a minute before the time of the explosion and subsequent fire that sent radiation billowing throughout Europe.
The Chornobyl disaster contaminated large swaths of territory in Ukraine, Belarus, and Russia.
(compiled from agency reports)
Chornobyl Contamination Zones
Chornobyl Contamination Zones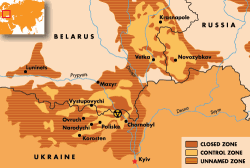 Click on the map to enlarge.

THE DIRTY ZONE: Within a month of the April 26, 1986, Chornobyl explosion, Soviet authorities had evacuated almost 120,000 people from a zone within 30 kilometers of the plant. However, contamination by radioactive isotopes, particularly cesium-137, which has a half-life of 30 years, spread over a much wider area.
The map above shows the four areas of cesium-137 contamination across Belarus, Russia, and Ukraine. The Closed Zone shows contamination more than 40 curies per square kilometer, the Control Zone includes the Permanent Control Zone (15-40 curies per square kilometer) and Periodic Control Zone (5-15 curies per square kilometer), and the Unnamed Zone shows contamination of 1-15 curies per square kilometer.

Click on the icon to view the slideshow