Four Killed In Blast In Ingushetia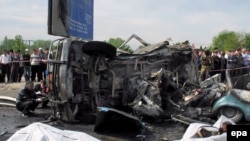 There have been a number of attacks on high-profile figures in Ingushetia, in one of which (pictured) Deputy Interior Minister Dzhabrail Kostoyev was killed in May (epa) July 10, 2006 -- An explosives-filled truck exploded today in the southern Russian region of Ingushetia, killing four suspected militants.
Media reports say the incident occurred in the village of Yekazhevo near Nazran, the main city in Ingushetia.
The four victims, all men, were sitting in two passenger cars parked beside the truck that exploded.
(AP, AFP)