Jailed Russian Journalist Allegedly Denied Medical Care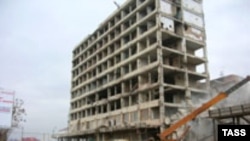 The former Press House in Grozny under reconstruction in March (ITAR-TASS) July 17, 2006 -- A lawyer for an arrested Russian journalist says that her client, an advocate for Chechnya's independence, is being mistreated in jail.
Boris Stomakhin, editor of the publication "Radikalnaya Politika" (Radical Politics) and a contributing author of the pro-separatist website Kavkaz Center, has been in custody since March.
His lawyer, Karen Nersesyan, says that Stomakhin is being denied medical care.
(AP, Interfax)