The Chinese firm said in a statement that the shares are part of Rosneft's multibillion-dollar initial public offering launched this week.
Last year, the CNPC bought Kazakhstan's biggest oil producer, PetroKazakhstan.
Rosneft shares began trading on the London Stock Exchange on July 19.
A British judge on July 18 rejected an attempt to block the flotation by the Russian oil company Yukos, which argued that most of the value of the Rosneft shares resulted from the sale of Yukos assets by the Russian government.
Rosneft hopes to make $10.4 billion through the offering.
(AP, AFP)
China In Central Asia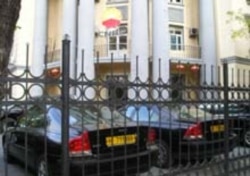 The Almaty,Kazakhstan, office of China's National Petroleum Corporation (RFE/RL)
BEIJING ON THE RISE:
The September 11, 2001, terrorist attacks against the United States prompted Washington to topple the Taliban regime in Afghanistan. At the time, many predicted the United States would gain a new foothold in Central Asia: new U.S. military bases appeared in Kyrgyzstan and Uzbekistan, U.S. foreign aid increased, and much U.S. attention was lavished on the region. Russia and China looked on warily. But the pendulum may be swinging back in Moscow's and Beijing's favor. China, especially, has expended great effort at winning friends in Central Asia and is becoming a force to be reckoned with
....(more)
RELATED ARTICLES
Turkmenistan-China Pipeline Project Has Far-Reaching Implications
Central Asia Looks To Fuel Asia's Economic Boom
The Geopolitical Game In Central Asia
ARCHIVE
To view an archive of RFE/RL's coverage of China, click here.

SUBSCRIBE
For weekly news and analysis on all five Central Asian countries by e-mail, subscribe to "RFE/RL Central Asia Report."