Afghan Government Recaptures Towns Seized By Taliban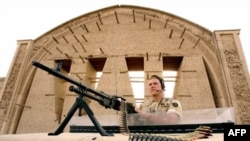 A British soldier guards outside the Qala-e-Bost fortress in Lashkar Gah, the capital of Helmand Province (file photo) (AFP) July 22, 2006 -- Afghan troops and members of the international coalition today regained control of two towns in the south of the country briefly seized by Taliban forces.
The towns of Garmser and Naway, both in Helmand Province, were recaptured with little resistance, a government official said.
The clashes left 13 Taliban dead and 15 wounded, the official said.
The international coalition suffered no casualties in the battle.
However, two foreign soldiers were among the eight fatalities in a two-pronged suicide attack in the southern Afghan city of Kandahar on July 22.
A spokesman for the U.S.-led force said the first suicide car bomber rammed a coalition convoy. The second bomber blew himself up a short time later on the same site.
The spokesman did not state the nationalities of the soldiers. The other victims were civilians.
Afghan police say a purported spokesman for the Taliban, Qari Yusaf Ahmadi, claimed responsibility for the attacks.
(AFP, AP)

RFE/RL Afghanistan Report

SUBSCRIBE For regular news and analysis on Afghanistan by e-mail,
subscribe to "RFE/RL Afghanistan Report."