The trial is being held behind closed doors.
Ambassadors of several European Union countries, as well as opposition leader Alyaksandr Milinkevich arrived at the courtroom but were not allowed in.
The four were arrested in late February, in the run-up to the disputed March presidential election, in which President Alyaksandr Lukashenka was reelected.
Tsimafey Dranchuk, Mikalay Astreyka, Enira Branitskaya, and Alyaksandr Shalayka are accused of belonging to an unregistered organization "infringing upon the interests and rights of citizens."
The organization to which they belong, Partnerstva (Partnership), is an election observer group.

Minsk, March 25
THE AUTHORITIES GET TOUGH: RFE/RL's Belarus Service filed these images from the police action against the March 25 demonstration in Minsk. Photographs by Maks Kapran.
LISTEN
Listen to the sounds of the demonstration:
Real Audio Windows Media
Real Audio Windows Media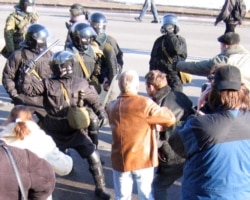 (RFE/RL)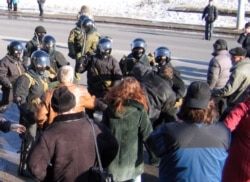 (RFE/RL)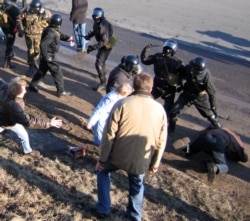 (RFE/RL)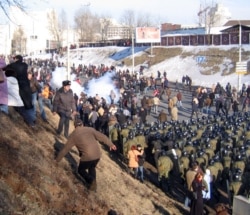 (RFE/RL)

THE COMPLETE PICTURE:
Click on the image to view a dedicated page with news, analysis, and background information about the Belarusian presidential ballot.


COVERAGE IN BELARUSIAN: Click on the image to view RFE/RL's coverage of the election campaign in Belarusian and to listen to RFE/RL's Belarusian Service.