Earlier this year, Iran's central government began considering gasoline rationing and other measures that affect gasoline use. The development was largely motivated by the fiscal concerns. Consumers currently pay $0.09/liter because the government subsidizes gasoline. But Minister of Economy and Finance Davud Danesh-Jafari has estimated that a liter costs more than six times that amount, or 5,000 rials (about $0.57), "Farhang-i Ashti" reported on July 11.
Drivers used 67 million liters a day in the last Iranian year, and the government expects they will use 73 million liters daily in the current year. This is not high in comparative terms. According to the U.S. Energy Information Administration, gasoline consumption is well below that in the United States, Japan, or China, to name a few.
But while Iran is a major oil exporter, its refineries cannot meet domestic demand. They can only refine 60 percent of the gasoline Iranians use, and must import the rest. The situation is further complicated by the smuggling of cheap gasoline from Iran to neighboring states, where it can be sold at a profit.
Recognizing A Problem
At the end of June, speaker of parliament Gholam Ali Haddad-Adel announced that Iran's legislature had approved gasoline rationing -- as called for in the executive branch's annual budget. Haddad-Adel also made it clear that he and his colleagues recognize how unpopular rationing would be. He said cooperation was continuing with the government "to find the best way to economize" within an appropriate time frame, Islamic Republic of Iran New Network television reported on June 29.
Eventually, the government decided not to ration gasoline. Instead, the government would ask to withdraw $4 billion from Iran's foreign-currency reserves to spend on fuel imports.
It soon became clear that the possibility of a public backlash had stayed the government's hand. During President Ahmadinejad's discussion of economic affairs with cabinet members and provincial governors-general on July 9, he had dismissed rumors that there were imminent plans to increase gasoline prices through rationing, Islamic Republic News Agency (IRNA) reported. He also reassured them that "if the government decides to ration gasoline," its decision would be "transparent and announced to the nation with the aim of controlling [its] excessive use."

The same day, Deputy Interior Minister for Development Affairs Seyyed Mehdi Hashemi called energy management a major aspect of the meeting, according to Mehr News Agency. He said fuel subsidies cost the government $13 billion annually. Hashemi added that a committee consisting of a presidential envoy, the cabinet secretary, and the head of the Management and Planning Organization would soon address the subject of gasoline. He pledged that legislation would be introduced to the parliament for approval in the coming year.

The legislature's Budget and Planning Committee also met the same day in early July to discuss the possibility of gas rationing, Fars News Agency reported. The committee announced that lawmakers had determined that gasoline requirements for the latter half of the year would be met through imports -- obviating the need for rationing.

The Government Blinks

But a little more than a week later, government spokesman Gholam-Hussein Elham said the government had not yet reached a decision on gasoline rationing. The spokesman added that the government intended to promote the use of cars that burn natural gas and facilitate the use of public transport, Mehr News Agency reported on July 18. Elham said the government also wanted to get old, inefficient cars off the road.


Eventually, the government decided not to take the unpopular step of rationing gasoline. Kamal Daneshyar, head of the parliamentary Energy Committee, said the government would ask to withdraw $4 billion from Iran's foreign-currency reserves to spend on fuel imports, "Aftab-i Yazd" reported on July 23.
Hussein Nejabat, another member of the Energy Committee, said the government had also decided to change the current gasoline distribution system, "Aftab-i Yazd" reported on July 23. He described the government's overall objective as reducing gasoline consumption below that of the previous year. "But," he added, "the methods and means of achieving that goal [were] still being debated." He noted that the purchase of buses that run on natural gas had already been approved.
At the end of July, government spokesman Elham stressed that "reducing consumption is one of the government's definite policies," according to IRNA on July 24. He went on to add that the government had yet to develop any strategy that called for rationing or curbing imports.
Petroleum Minister Kazem Vaziri-Hamaneh confirmed on July 30 that there would be no rationing, according to Reuters on July 31. Imports, the minister said, will continue as before.
Women In Iran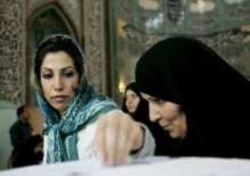 Women in Tehran (epa file photo)

CALLING FOR MORE RIGHTS: Although women played key roles in Iran's 1979 Islamic Revolution, the place of women in post-revolutionary society has been a vexing question. Iranian women have struggled to bring attention to their calls for greater rights in their country's rigid theocratic system, calls that have often clashed with the values proclaimed by conservatives in society. (more)
RELATED ARTICLES
Tehran Police Renew Campaign To Combat 'Un-Islamic' Dress
Iranian Peace Prize Laureate Shirin Ebadi On Women's Rights
Activists Concerned About Self-Immolation Of Iranian-Kurdish Women
The Younger Generation's 'Tehran Blues'
ARCHIVE
RFE/RL's coverage of Iran. RFE/RL's coverage of issues concerning women throughout our broadcast area.

SUBSCRIBE
For a regular review of civil-society developments throughout RFE/RL's broadcast region, subscribe to "RFE/RL (Un)Civil Societies."