Kyrgyz Court Acquits Senior Intelligence Officer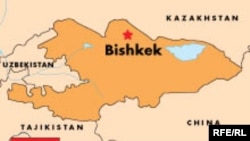 (RFE/RL) BISHKEK, August 7, 2006 (RFE/RL) -- A military court in Kyrgyzstan has acquitted a senior intelligence officer, Aldoyar Ismankulov, whose name was cited in connection with the January 9 murder of the international wrestler Raatbek Sanatbaev.
Ismankulov's lawyer, Ikramidin Aitkulov, today said his client was acquitted on August 4 on charges of illegally possessing drugs and weapons.
Ismankulov's detention on January 17 and almost immediate release sparked a scandal in Kyrgyzstan, with Interior Minister Murat Sutalinov accusing the National Security Service (SNB) of obstructing the investigation into Sanatbaev's murder.
Sutalinov has accused Ismankulov of ties with the criminal underworld.

RFE/RL Central Asia Report

SUBSCRIBE For regular news and analysis on all five Central Asian countries by e-mail,
subscribe to "RFE/RL Central Asia Report."