HRW Criticizes 'Attempt To Silence' Iranian Rights Group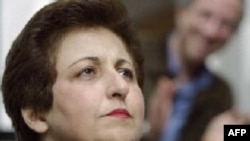 Shirin Ebadi (file photo) (AFP) August 8, 2006 -- The New York-based Human Rights Watch (HRW) is calling on Iran's authorities to immediately reverse their threat to prosecute the Center of Human Rights Defenders, an advocacy group led Shirin Ebadi, winner of the 2003 Nobel Peace Prize.
Iran's Interior Ministry said on August 2 that Ebadi's organization has no valid registration permit and that its activities are therefore illegal.
HRW says in a statement the decision is an "attempt to silence" the group and a "huge setback for protecting human rights in Iran."
Ebadi told RFE/RL on August 7 that her group applied for registration when it was set up four years ago, but that the authorities never issued a permit, despite assurances that they would.
Ebadi's center has defended several prominent Iranian activists and dissidents in the past.