PRAGUE, August 8, 2006 (RFE/RL) -- Former inmate Bina Darabzand told Radio Farda that he was being held in the same prison block with Akbar Mohammadi at Tehran's Evin prison.
He says he saw Mohammadi around 8 p.m. on July 30, shortly before Mohammadi died.
RFE/RL could not independently corroborate his account of the hours leading up to Mohammadi's death, but family members and rights groups are calling for an independent autopsy and investigation.
Autopsy Being Conducted
Tehran's deputy prosecutor, Mahmoud Salarkia, has said prison physicians believe Mohammadi died of a heart attack. But he added on August 1 that the exact cause of his death should be determined by coroners, according to IRNA.
Iranian authorities said that Mohammadi received treatment at the prison's infirmary, including serums.
Salarkia said that Mohammadi -- who was hunger striking in a bid to secure his release -- had personally demanded to be transferred back to his cell.
Inmate Account
Darabzand told Radio Farda a different story. He claimed that prison authorities denied Mohammadi adequate care.
"I remember after he went on hunger strike on [July 23] that on [July 27] he felt ill three times. They hospitalized him only after the third time he felt ill," Darabzand said. "On [July 30], when they returned him to the block, he told us during the last hour of his life that on [July 29] he had a heart attack in the prison infirmary."
Mohammadi reportedly suffered from serious health problems -- including internal bleeding, lung and kidney infection, and injury to his spinal cord.
Tortured Past
Rights advocates and relatives said those complications were the result of torture he had endured during prison interrogations.
In July 2004, Mohammadi was released from prison to receive medical care.
About two years later, on June 11, he was rearrested at his family home in northern Iran and transferred to Evin prison.
Iranian authorities said Mohammadi was returned to prison to complete his 15-year prison term in connection with Tehran's 1999 student protests.
A few weeks later, Mohammadi launched a hunger strike to protest his imprisonment and win his release.
Hunger Strike
Darabzand said prison doctors had warned that Mohammadi's continuing hunger strike could endanger his life.
"The head of the prison infirmary had warned the prison management that [Mohammadi] had a syncope [a loss of consciousness, often from a lack of blood flow to the brain], although he survived it. But he had said, 'If we don't react to his conditions -- since he doesn't even drink water and doesn't accept medication -- whether we want to or not, we'll face a corpse here. The prison authorities said to return him to his cell and let him die there. The next day, they again told him to stop his hunger strike -- there are many witnesses. But he had said, 'I won't stop until you meet my demands.' Then [prison authorities] told him that they would return him to the cell block so that he could rot."
Darabzand -- who was released on August 6 after two years in prison -- said Mohammadi was in poor health when he was returned to his block.
"They returned him to the block by ambulance -- he couldn't move," Darabzand said. "[Other inmates] had to bring him in on a stretcher; it was clear that he hadn't received medical care. Some inmates volunteered and took him to the bathroom to change his clothes and wash him with a sponge. There his face turned black and his jaw locked up. I wasn't there -- I was on the phone when I saw that they were carrying him on the stretcher toward the infirmary. They had called for an ambulance, but the infirmary didn't send one."
Darabzand said the 36-year-old Mohammadi died on the way to the infirmary.
Some Discrepancies
Iranian authorities have given a slightly different version of Mohammadi's final hours.
Deputy prosecutor Salarkia said that Mohammadi had a heart attack while taking a cold shower. He said he was rushed to the infirmary but that doctors' efforts to save him were futile.
Some observers have described Mohammadi's death as suspicious and called for an independent investigation to determine the cause of death.
Darabzand placed the blame squarely on the authorities.
"I disagree that it was suspicious -- because for those of us who were there, what [the authorities] did was very obvious. First of all, based on a recommendation made by [medical authorities], Mr. Mohammadi went on an unlimited leave two years ago because he couldn't stay in prison with all his health problems. Our question is: Who ordered that he be returned to prison, illegally and over his protest?"
He also dismissed as "rumor" a report that suggested Mohammadi was forcibly given some sort of medication.
"We witnessed his heart attack," Darabzand said. "We think that the fact that he had a heart attack and then was returned to the block so that he died there is enough to condemn this establishment. There is no need to spread rumors that [Tehran General Prosecutor] Mortazavi poisoned him. Those who spread these rumors apparently want to show that Iran's Islamic establishment has only one evil -- and that is Mr. Mortazavi -- and that if you remove a few people like Mortazavi, then there won't be any problems with the regime. No! they're all the same in this establishment."
Amnesty International and Human Rights Watch have said Mohammadi's death is a black mark on the entire Iranian justice system and called for independent inquiries.
(Radio Farda correspondent Shirin Famili contributed to this report.)
U.S. Report On Global Human Rights
U.S. Report On Global Human Rights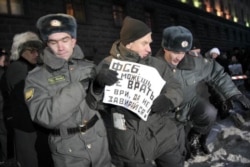 Police in Moscow arrest human rights demonstrators on February 1 (courtesy photo)
THE RECORD ON RIGHTS: On March 8, the U.S. State Department issued its global report on human rights. According to the report, 15 years after the breakup of the Soviet Union, human rights are improving in many post-communist countries. But problems persist in others, it says, despite the worldwide explosion of information and Western efforts to spread democracy. (more)
For more detailed information, see:
Azerbaijan Cited For Political Harassment, Police Brutality
Child Labor, Human Trafficking Cited In U.S. Report On Afghanistan
U.S. Says China, Iran 'Most Systematic' Rights Violators
Human Rights Not A Priority In Central Asia, U.S. Report Says
U.S. Report Points To Serious Abuses In Iraq
Abuses In Chechnya, Centralized Power Cited In U.S Report On Russia
U.S. Says Serious Human Rights Violations Occurring In Iran



SUBSCRIBE
For a regular review of civil-society developments throughout RFE/RL's broadcast region,
subscribe to "RFE/RL (Un)Civil Societies."