Kyrgyz Officials Say Imam Perhaps Killed Accidentally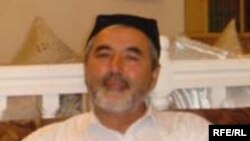 Rafiq Qori Kamoluddin (file photo) (RFE/RL) August 10, 2006 -- Kyrgyzstan's National Security Service (SNB) says a prominent ethnic Uzbek imam shot dead during a security raid on August 6 may have been killed accidentally.
Kyrgyz media quote an SNB statement as saying Rafiq Qori Kamoluddin -- also known as Muhammadrafiq Kamalov -- may have been taken hostage by the two suspected Islamic militants who were killed with him.
The statement says investigators do not rule out that the two may have used Kamoluddin as a human shield.
The SNB had initially described Kamoluddin as a terrorist and a member of the banned Islamic Movement of Uzbekistan
Kamoluddin and the two men were killed while driving through the southern Kyrgyz city of Osh. Security officials said weapons and ammunitions were found in their car.
(Kabar, 24.kg)