In a statement released from its London headquarters on August 7, Hizb ut-Tahrir describes Rafiq Qori Kamoluddin's killing as an "extrajudicial assassination."
Kamoluddin was known for allowing members of Hizb ut-Tahrir, which is banned in Kyrgyzstan and much of Central Asia, to pray at his mosque in the southern town of Kara-Suu. But he openly disagreed with the views of the group, which advocates the establishment of Islamic rule via nonviolent means.
The Kyrgyz authorities claim the imam was a wanted terrorist and that he was killed while resisting arrest.
Kamoluddin, also known as Muhammadrafiq Kamalov, was shot dead on August 6 in what was reportedly a joint Kyrgyz-Uzbek security sweep.
Hizb ut-Tahrir says the slaying shows that the Kyrgyz leadership is following in the footsteps of Uzbek President Islam Karimov.
Karimov has been cracking down on all forms of religious dissent for many years, jailing members of nonofficial religious groups on charges that rights groups say are often fabricated.
Relatives and followers deny the official account of events.
Hundred of followers attended Kamoluddin's funeral on August 7 in Kara-Suu.

Shanghai Cooperation Organization
Shanghai Cooperation Organization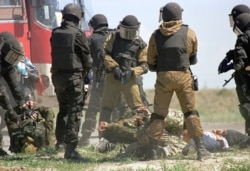 Soldiers conducting the first-ever SCO joint antiterrorism exercises, held in Kazakhstan in August 2003 (TASS)

NATO'S EVIL TWIN? At an August 3 briefing at RFE/RL's Washington,D.C., office, Central Asia experts Richard Weitz and Daniel Kimmage discussed the emergence of the Shanghai Cooperation Organization (SCO), a multilateral body that comprises Russia, China, Kazakhstan, Kyrgyzstan, Tajikistan, and Uzbekistan. In addition, Iran, Pakistan, Mongolia, and Afghanistan have observer status in the organization.
LISTEN
Listen to the entire briefing (about 75 minutes):

Real Audio
Windows Media
RELATED ARTICLES
U.S. Wary Of Shanghai Grouping
Unified Message Emerges From Shanghai Summit
Shanghai Cooperation Organization Mulls Expansion
China-Russia Bloc Challenges U.S. In Region


THE COMPLETE STORY: Click on the icon to view a dedicated webpage bringing together all of RFE/RL's coverage of Kazakhstan, Kyrgyzstan, Tajikistan, Turkmenistan, and Uzbekistan.