Former Yukos Employee Jailed For 24 Years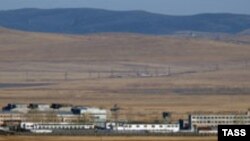 The former head of Yukos, Mikhail Khodorkovsky, is serving a jail term in this penal colony close to the Chinese border (ITAR-TASS) August 17, 2006 -- The Moscow city court has sentenced the former head of security at the bankrupt oil firm Yukos to 24 years in prison for a series of contract killings.
Aleksei Pichugin is already serving a 20-year sentence on charges of organizing several murders, including the 1998 killing of Vladimir Petukhov, the mayor of Nefteyugansk, Yukos' main base in western Siberia.
Pichugin's lawyer called today's sentence politically motivated and said his client would appeal.
Also today, Russia's prosecutor general launched criminal cases against three former Yukos executives and the director of the oil firm's main shareholder, Menatep.
The prosecutor said in a statement that the former chief executive of Yukos, Steven Theede, two other managers, and Menatep's director had "entered into agreements with the aim of appropriating Yukos' foreign assets."
(Reuters, ITAR-TASS)


UPDATED CONSTANTLY: Visit RFE/RL's Russian-language website, featuring news, analysis, features, streaming audio, and more, in Russian, from RFE/RL's Russian Service.
ARCHIVE
RFE/RL's English-language
coverage of Russia
.