Russia: 'They Are Trying To Break Him'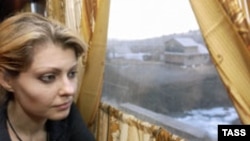 Inna Khodorkovskaya en route from Moscow to the penal colony at which her husband is serving his jail term, close to the Chinese border (file photo) (ITAR-TASS) Inna Khodorkovskaya tells RFE/RL about the impact of prison on her husband, the former tycoon Mikhail Khodorkovsky, and the pressures she faces from the authorities.
PRAGUE, July 31, 2006 (RFE/RL) -- Since Mikhail Khodorkovsky was imprisoned three years ago, his wife and their three children have lived in a house in the leafy Moscow suburb of Zhukovka.
The building and the land around it is -- or rather was -- owned by an affiliate of Yukos, the oil company that once made Khodorkovsky one of the richest and most influential men in Russia, Khodorkovskaya explained in a July 25 interview with RFE/RL's Russian Service.
But on May 2 this year, Khodorkovskaya says, a Moscow court impounded the family home, saying it was part of the ongoing investigation into tax evasion at Yukos.
Khodorkovskaya suspects it will not be long before she and the wives of other Yukos executives living in Zhukovka are forced out.
It is part, she says, of the relentless pressure that the authorities are piling on her husband and other Yukos officials.
A Man Much Changed
Khodorkovsky is now incarcerated in a prison camp deep in Siberia. Inna is permitted to visit once every three months. But getting there is a major effort in itself: a nine-hour flight, followed by a 15-hour train journey, followed by a 40-minute car ride.
She is allowed to stay with her husband for three days in a prison hostel that some Russian papers suggest borders on the luxurious. In fact, she insists, they share a simple room furnished with a bed, a chair and a cupboard.
Khodorkovskaya finds her husband much changed -- a consequence, she says, of the psychological, and sometimes physical pressure he is subjected to.
"They raise the pressure, then they reduce it and then they raise it again. So there's no straight upward line, they're just trying to drain him."
"They're trying to break him, nothing more, nothing less," she says of the prison authorities. "These are methods that have probably long been worked on and refined. I would say that it works on the principle of amplitude. They raise the pressure, then they reduce it and then they raise it again. So there's no straight upward line, they're just trying to drain him."
His biggest difficulty, she says, is the isolation and the mental vacuum caused by his inactivity. But he is finding other ways to fill the gap.
"He reads a lot of religious literature. He's not a religious fanatic, he's not completely mad about religion," she says. "His interest is analytical. He doesn't push faith away, but he has begun to experience it in a new way. If before he approached the subject from a sort of historical point of view, now he feels closer to it."
A 'Political Prisoner'
Khodorkovskaya says she has no doubt that her husband is a political prisoner, sentenced to satisfy the ambitions of the men who now rule the Kremlin.
Khodorkovsky himself -- and many independent critics -- describe his trial as a staged farce and a warning to Russia's immensely wealthy oligarchs to stay out of politics.
The Kremlin disagrees. Khodorkovsky, it says, is a criminal who defrauded the state of a massive sum in taxes.
"Of course, no one suggested that things would get quite so bad, but right to the end he intended to stay here [in Russia]. And I did too."
Inna Khodorkovskaya says she and her husband had feared the state would come after him. Nonetheless, the couple had chosen to stay in Russia.
"It was our joint decision. We talked about whether to stay or go, but the decision was simple. What is there, out there? Of course, no one suggested that things would get quite so bad, but right to the end he intended to stay here. And I did too."
In that respect, she says, nothing has changed. If the authorities force her out of her home, she will stay in Russia. The critical issue now is how to bring up her family in the absence of a father.
But Khodorkovskaya betrays little bitterness.
Both she and her husband have been changed by the experience of the last few years, she says. But they will emerge stronger, she believes.
"There are moments when something serious happens in your life and your values change. And, naturally, recent events... my values have grown stronger, I would say. That's to say, my values have really crystallized," she says. "I can't say that they have changed fundamentally. But his probably have because he used to be in politics. Now he sees what's happening there from a slightly different perspective. Naturally, he has changed greatly."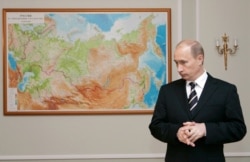 President Putin is mulling his political future (epa)

THE 2008 QUESTION: President Vladimir Putin's second term of office ends in the spring of 2008. Since the Russian Constitution bars him from seeking a third consecutive term, this event threatens to present a crisis in a country that has a history of managed power transitions. Already, Russian politics are dominated by the ominous 2008 question.
RFE/RL's Washington office hosted a briefing to discuss the prospects of Putin seeking a third term. The featured speakers were RFE/RL Communications Director Don Jensen and political scientist Peter Reddaway of George Washington University.
LISTEN
Listen to Don Jensen's presentation (about 16 minutes):
Real Audio
Windows Media
LISTEN
Listen to Peter Reddaway's presentation (about 35 minutes):
Real Audio
Windows Media
RELATED ARTICLES
Will Putin Pursue Third Term, Or Will It Pursue Him?
Could Yakunin Be 'First-Called' As Putin's Successor?
Putin Again Says He Won't Run For Third Term But Will 'Work' For Russia
Interview: Former Premier Kasyanov Warns Of Political Crisis
Former Premier Kasyanov Announces Run For President
ARCHIVE
RFE/RL's English-language
coverage of Russia
.

SUBSCRIBE
For news and analysis on Russia by e-mail,
subscribe to "RFE/RL Russia Report."