Celebrations are being held across the country despite an increase in violence this year from resurgent Taliban forces.
Thousands of people packed into a stadium in Kabul to listen to President Hamid Karzai and others speak about Afghan independence and the future of the country.
Karzai spoke about the need for education, saying it was key to Afghanistan remaining an independent nation.
Karzai's comments carried extra weight because part of the insurgent campaign in Afghanistan is directed against schools, particularly those that offer instruction to girls.
The Taliban regime, ousted in late 2001, refused to allow girls to be educated when it was in power in Afghanistan.
But Karzai also used his speech to remind the Afghan people that "history proves our bravery."
Details Of The Celebration
The celebration in Kabul included a parade with members of the armed forces and police participating.
Horsemen played "buzkashi," a horseback competition to score points by throwing parts of an animal carcass into a scoring area in the Kabul stadium once used by the Taliban for public executions.
One participant in today's festivities was Ajmal Jan, a boy barely into his teenage years.
"We gathered here to celebrate our independence day, it is the day of our victory and we are very happy," Jan said. "I congratulate all the Afghan people on this day, especially His Excellency President Hamid Karzai."
Jan's sentiments were echoed by an older participant in the celebrations, Kamal Khan.
"This is Afghanistan's victory day," Khan said. "We came to celebrate our victory. Our ancestors celebrated this day and we want to continue."
Ironically, the Independence Day celebration comes with several thousand British soldiers stationed in Afghanistan as part of a NATO-led foreign force helping the fledging Afghan Army and security forces regain control over the country.
Revelers in Kabul were treated to a fireworks display last night and are promised another fireworks spectacle this evening.
Saving Afghanistan's Heritage
Saving Afghanistan's Heritage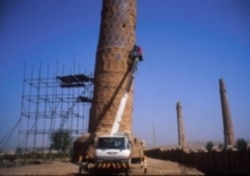 A UNESCO team working to stabilize Herat minarets in 2003 (UNESCO)

THE MINARETS OF HERAT: In Afghanistan's leafy western city of Herat, a two-lane road slices between the city's five remaining 15th-century minarets. Every truck, car, bus, motorcycle, and horse-drawn carriage that passes by sends vibrations coursing through the delicate structures.
In particular, the Fifth Minaret -- all 55 meters of it -- seems ready to collapse into a dusty heap of bricks and colored tiles at any moment. A large crack near its base makes drivers speed up just a little as they pass by....(more)



Click on the image to view an audio slideshow of this story by RFE/RL correspondent Grant Podelco.



RELATED ARTICLES
Afghanistan Protects Storied Bactrian Treasure
Archeologist Hunts For Third Bamiyan Buddha
Musicians Struggling To Revive Classical Heritage After Taliban
ARCHIVE
To view RFE/RL's complete coverage of Afghanistan,
click here
.

SUBSCRIBE
For weekly news and analysis on Afghanistan by e-mail, subscribe to "RFE/RL Afghanistan Report."