Nikolai Patrushev attributed the change to successes scored by security forces against militants in Chechnya itself.
He says that over the past seven months, militants carried out 18 "terrorist" acts in Ingushetia and 11 in North Ossetia, twice as many as in the same period of 2005.
He also said 163 Chechen militants have so far laid down their arms under a proposed amnesty, a number that he described as "significant."
Earlier this year, Patrushev proposed an amnesty for all militants who laid down their arms by August 1. Chechen officials later proposed the offer be extended to January 1, 2007.
(ITAR-TASS)

The Chechnya Conflict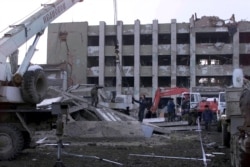 The aftermath of a December 2002 Chechen resistance attack on the main government building in Grozny (epa)


CHRONOLOGY
The
fighting in Chechnya
has raged, with short breaks, since 1994. It has brought misery, death, and destruction to the North Caucasus republic and to Russia as a whole. View an
annotated timeline
of the conflict.

ARCHIVE
RFE/RL's complete coverage of Russia's war-torn Republic of Chechnya.