Officials said the bomber killed himself, along with two Afghan civilians who were near the blast.
An Afghan Army soldier was reported injured. No troops serving with NATO were reported harmed.
Meanwhile, Turkey says two of its nationals have been killed in Afghanistan. The deaths of the two Turkish engineers occurred in separate incidents.
Hasan Gedik was killed in an August 28 ambush between Kandahar and Herat. Riza Ozsimsek was found dead on the road between Kabul and Pul-i Charkhi.
Both men were employed by companies involved in the reconstruction of Afghanistan. Turkey has urged the Afghan government to investigate the killings.
(compiled from agency reports)
The Afghan Insurgency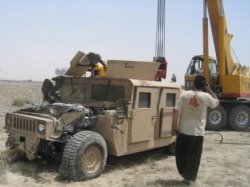 A U.S. military vehicle damaged by insurgents near Kandahar (epa)
HOMEGROWN OR IMPORTED? As attacks against Afghan and international forces continue relentlessly, RFE/RL hosted a briefing to discuss the nature of the Afghan insurgency. The discussion featured Marvin Weinbaum, professor emeritus of political science at the University of Illinois at Urbana-Champaign, and RFE/RL Afghanistan analyst Amin Tarzi.
LISTEN
Listen to the entire briefing (about 83 minutes):
Real Audio
Windows Media
ARCHIVE
RFE/RL's
coverage of Afghanistan
.
SUBSCRIBE
For weekly news and analysis on Afghanistan by e-mail,
subscribe to "RFE/RL Afghanistan Report."