Germans Head Kosovo Missions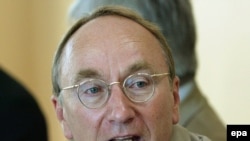 Joachim Ruecker, the UN's new administrator in Kosovo (file photo) (epa) September 1, 2006 -- Germans today assumed control of both the UN's political and military missions in Kosovo.
The new UN administrator is Joachim Ruecker, who replaces the Dane Soren Jessen-Petersen, whose term ended in July.
German General Roland Kather assumed command of the 16,000-strong NATO peacekeeping force.
(AFP, Reuters, AP)