One Killed, 13 Injured In Chechnya Blast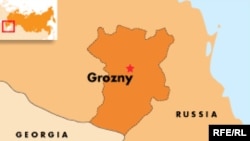 (RFE/RL) September 4, 2006 -- Authorities in Chechnya say one person was killed and at least 13 injured in an explosion at a Russian military base near Chechnya's capital, Grozny.
The blast occurred on September 3 at the Khankala base in a barracks used by prison guards.
Interfax quoted Federal Corrections Service chief Yury Kalinin as saying "careless handling" of munitions is the most likely cause of the explosion.
An investigation is under way.
(ITAR-TASS, AP, Interfax)


An archive of RFE/RL's extensive coverage of terrorism in Russia.
CHRONOLOGY
Timeline
of major terrorist incidents in Russia since 1995.